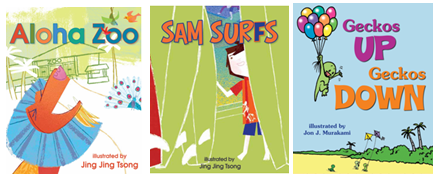 Just in time for National Children's Book Week, local company BeachHouse Publishing released three new keiki board books! These books are perfect for curious little hands (or teeth) being just the right size and weight for kids to hold and turn pages by themselves…plus it's small enough to put into a tote or diaper bag without taking up all the room. Also, rounded corners so you or your kids don't get poked or stabbed! Regular corners can be a bit tricky and unfriendly.
Jane Gillespie authored all three books, and is the previous author of several other popular board books from BeachHouse. Check out the web page "sneak peek" on these three books for more info and images!
I tried these out on a co-worker's kid, he's about to turn 3 (the kid, not the co-worker). He loved the rhyming rhythm of Aloha Zoo and how on each page the animals were doing something or making a noise. He was really attracted to the illustrations. What we both loved were the colors chosen for each animal, like the green and pink cow or the orange and blue lion! Jing Jing Tsong did an amazing job mixing the colors and textures—they're just as playful as the words and rhymes in the book.
Jing Jing Tsong also illustrated Sam Surfs and her minimalist background style (with the main colors and textures focused on the character and what they're doing) is seen particularly in this book.  It's about a little boy named Sam who wants to surf but everyone says he's too small.  Using his imagination and a miniature ironing board, he pretends to surf big waves in his living room. He waits for the waves, he paddles,  he even goes up and down with the passing swells. It's a great lesson in creativity for a kid and at some point you really believe Sam is surfing and not just cruising the waves of his parlor carpet.  My little reading buddy was a bit confused at first that Sam was just pretending, because of the vague background it was hard for him to tell that Sam was in the living room. On the other hand, because of that it was easier to pretend along with Sam that he was surfing in the ocean.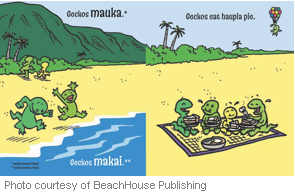 My favorite of the three, and my reading buddy's favorite as well, was Geckos Up Geckos Down illustrated by Jon Murakami. Jane Gillespie and Jon Murakami have done several "Gecko" books together and this new one is just as charming as the rest. Only in Hawaii will you find a kids board book rhyming words with "haupia pie". I was so delighted by that, I just have to give Jane kudos. Add to the endearing rhyme, the most adorable gecko illustrations by Jon Murakami and you've got yourself a fun little local style keiki book. My reading partner laughed when the geckos laughed and loved all the things they did in the illustrations. He recognized the trolley and the luau pig and just had a blast checking out what every gecko on the page was up to and telling me to "look, this one!" in reference to the geckos unique expressions.
All three of these new releases were fun to read and it's never too early to foster a love for books. We're lucky to have titles that local kids can relate to and find joy in seeing familiar things— like haupia pie, geckos and trolleys! Jon Murakami will be at the Hawaii Book & Music Festival SUNDAY 5/16 at 11:30 in the Target Keiki Author & Illustrator tent, and you can probably catch Jane Gillespie at the BeachHouse tent!
*We received a copy of this book from the publisher in exchange for our honest review. Items that we receive "in kind" are never sold. We either keep them, donate them or give them away in HBB contests.