Since 1919, Children's Book Week has been celebrated nationally in schools, libraries, bookstores, clubs, private homes — any place where there are children and books. Educators, librarians, booksellers, and families have celebrated children's books and the love of reading with storytelling, parties, author and illustrator appearances, and other book-related events.
It's Children's Book Week from May 10 to May 16, and to celebrate I will be reviewing two self-published children's books that the authors were kind enough to provide us with.  You can celebrate, too, by buying children's books, borrowing them from your local library, reading to your children and more!  How are you celebrating Children's Book Week?  Let us know and stay tuned with us for the remainder of the week as we will continue our celebration with more reviews and talk about some of our favorite children's books.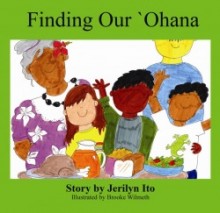 The first book that I want to talk about is by first-time local author Jerilyn Ito.  It is called Finding Our 'Ohana (Sleepytown Press, 2010) and is a paperback picture book illustrated by Brooke Wilmeth.  Recommended for children ages 6-8 years of age, it's a tale about two keiki (kids) named Lani and Maleko.  The two of them are in search of their 'ohana(family) and along their journey the reader enjoys experiencing all the delicious foods of Hawai'i through the duo's encounters and imagination.  Don't read this book on an empty stomach, because Jerilyn Ito runs the gamut of local delicacies from laulau to liliko'i orange juice, from mac salad to shave ice!  It'll get your appetite going!  The cute part is, Ito has a glossary in the beginning of the book describing all of the local words which includes most of the "exotic" food in the story.
I did have trouble deciphering whether some of the occurrences were in the children's head or if mystical properties were involved.  I'd love to hear interpretations on this, especially from your kids.  Also, with no backstory on their predicament, I had a sneaking suspicion that Lani and Maleko may have been homeless, which if true adds an interesting layer to the story and the idea of "finding one's family."  Irregardless of these nuances, I'm sure children will have fun exercising their imagination by mimicking the concept of transforming every day objects like a crate, bricks and sarong into a bountiful dinner table.  Plus, understanding what makes an 'ohana is an integral lesson in Hawaii, whether it's a nuclear family or the kapakahi mix found at Tutu Aloha's.  Jerilyn Ito also includes a section in the back for educational purposes; including teacher ideas, journal writing suggestions, comprehension and site mapping activities that can be done after reading the story.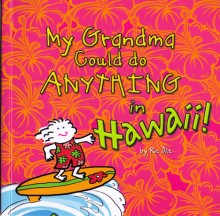 While not a local author, Ric Dilz has found success in publishing a series of books known as the My Grandma Could Do Anything series.  So why am I talking about this on a Hawai'i book blog?  Because one of the books in the series takes place in Hawaii!  Cleverly titled My Grandma Could Do Anything in Hawaii! (Rein Designs, 2006), this story takes on a very straightforward, parallel structure placing the narrator's grandmother in various extreme, but fun situations.  Recommended for early readers, they can see grandma surfing, juggling pineapples, windsurf with whales and bungee jump from a helicopter.  The gist is that while Grandma doesn't do these things…she COULD do them if she wanted.  It's a fun, humorous way for kids to look at their grandparents without being somber or sappy—something very simple that tutu and keiki can read and laugh about together.  The large print and compact size of the book (roughly 6 x 6) are a handy touch.
One thing Misty and I often discuss is the quality of Hawaii's children's books and often the lack of outstanding illustrations.  For me, I thought both of these books fell into that category.  The design of the Grandma book is fine with its multi-colored glossy pages, large print and solid binding.  The grandma is cute in its rough simplicity and fits in with the book's humorous charm, but isn't anything extraordinary to write home about.  I was also disappointed with 'Ohana from a design standpoint as the drawings (especially faces) were too simplistic, the coloring has a magic marker look to it and the font choice and placement were uninspired.
More than anything, however, I continue to applaud writers for self-publishing.  It's not an easy choice to make for a writer and self-published material, especially by our local authors, should be celebrated and supported.  You can find out more about Jerilyn Ito and her book at www.findingourohana.weebly.com.  The Grandma series of books can be found on the Rein Designs Books page and according to Mr. Dilz are also available in gift stores around the islands.
Finding Our Ohana
Written by Jerilyn Ito
Illustrated by Brooke Wilmeth
Sleepytown Press, 2010
32 pages
My Grandma Could Do Anything in Hawaii!
By Ric Dilz
Rein Designs, Inc. 2006
32 pages
Disclaimer: I received a copy of both books provided by the respective authors for review purposes. Jerilyn Ito, Ric Dilz or any related affiliates had no input in the content of this review.