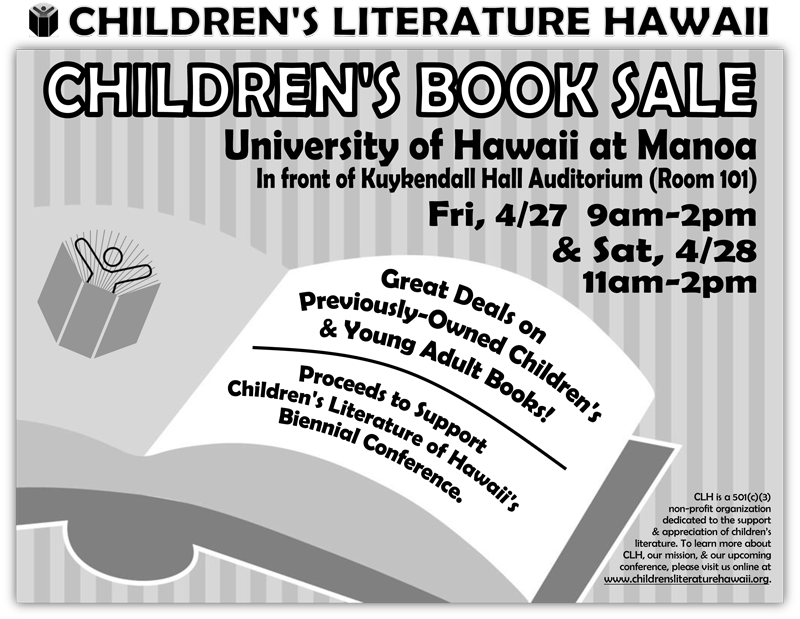 Children Literature Hawaii (CLH) is hosting a children's book sale to help raise funds for the June 2012 Biennial Conference. There will be good deals on previously-owned children and young adult titles and we encourage people of all ages to drop by and take a look. This sale isn't just for parents!
CLH hopes people will find an enjoyable read at a good price and pass the book along to children in their extended families, neighborhoods, or church/community groups. Some of these titles would be welcome additions in any classroom library. And of course, there may be books adults might want for their own personal collections.  Here's the details:
What:  CLH Annual Children's Book Sale
Where:  University of Hawaiʻi at Mānoa, in front of Kuykendall Hall Auditorium (Room 101)
When:  Friday, 4/27 from 9 am to 2 pm & Saturday, 4/28 from 11 am to 2 pm.
Why:  To support CLH's Biennial Conference held on Maui, June 20, and Oʻahu, June 21-23, 2012
The keynote speakers for this year's conference will be:
Author Pam Munoz Ryan, recipient of the Pura Belpre Award for her book The Dreamer; and
Author/Illustrator James Rumford, recipient of Seibert Honor Award for his book Sequoyah.
The file below is a detailed bibliography listing the books written/illustrated by the keynote speakers that are available for borrowing from the Hawaiʻi State Public Library System.
We hope you take some time this weekend to visit this book sale and help support a very important local literary conference!