The weather has finally cooled, lights are twinkling everywhere you look and KSSK is playing non-stop holiday tunes—it's Christmas time in Hawaiʽi!  Although there's no snow, the cozy feeling of Christmas is never lacking and the season is merrily celebrated with friends, family and local holiday traditions. We may not live in the conventional climate that inspires holiday cheer, with the usual evergreens and holly, but I like to think we have our own Christmas style here in the islands. In fact, there are lots of Christmas books for the kids written on that exact thing— "Christmas Hawaiian Style". They take traditional holiday stories and rewrite them with local flair. They're usually humorous and involve Santa on some kind of vacation. While these are perfectly wonderful books to share with your keiki, I found three that are impeccably well written, beautifully illustrated, and produced with quality. These three are sure to become holiday classics for you and your families. They're written by local authors, illustrated by local artists, and have charming stories and characters in line with the true values of the season without being condescending.  Books, even picture books, should be challenging for kids, with layers and extra details for them to discover.  These books will satisfy any dynamic little reader, and become stories to revisit every year without getting old.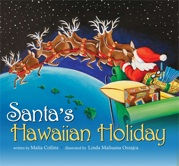 The first book, although about Santa on a vacation here in Hawaii, is written from a different perspective than most and it's lovingly illustrated with details that will thrill curious eyes. Where's the fun in picture books without exploring the pictures?  And this book, Santa's Hawaiian Holiday (Beachhouse Publishing) by Malia Collins is a lot of fun!  It's sort of told from the perspective of two local girls who think they see Santa on vacation here in the islands and they follow him from here to there based on reported sightings.  It was thrilling to think of where Santa would be spotted next!  The illustrations by Linda Oszajca enhance the story tenfold and really help give the book movement and excitement.  In fact, the best thing about this book are the details that Oszajca took care to include—objects and other elements that only someone with roots here would think to put in.  UH Warrior hats in Santa's bag, crack seed and more!  It's fun to see Santa interacting with the things we see here everyday.  Another thing I love about this book is that Santa isn't visiting  a generic, nameless place in Hawaii, he circles the entire island of Oahu!  This book is a great example of how our local style can combine with traditional Christmas elements to create an interesting story.  If you have keiki that like to explore pictures and point things out or make up their own games (how many UH caps can YOU find?) then this is the book for you.  Lots and lots of fun for adults and kids, sure to become a treat for the holidays every year.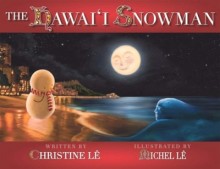 The second book is an award winner!  Written and illustrated by husband and wife team Christine and Michel Le, The Hawaiʽi Snowman (Mutual Publishing) won a Pele Award for design.  It's an enchanting book about a snowman who dreams of visiting Hawaiʽi.  His wish is granted and he meets interesting friends along the way, sharing his snow with those who need it.  It's a unique story with both local and Christmas values of generosity and selflessness.  The illustrations are very rich and the characters appear at such interesting angles and areas of the page as if Le was using a real camera instead of a paint brush.  It's achingly simple in a genius kind of way—a genuinely fantastic picture book with a story to hold its weight against the illustrations and a proud representation of the great literature that can come from Hawaiʽi.  This is another book that will be enjoyed by the family for years to come… although it is a little sad to see him getting smaller and smaller.  It's inspiring at the same time, because although he was a small snowman he had a very large heart and no matter how little of himself he had left, he was still happy to give.  That's a good Christmas story if I ever heard one.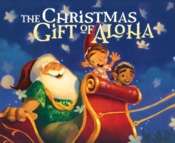 Last but not least, another fun book with an original story that does a great job of showing our local holiday style, The Christmas Gift of Aloha (Ohi'a Productions) by the crack team of writer Lisa Matsumoto and illustrator Michael Furuya.  It's a story of a North Pole elf who falls out of Santa's sleigh and find himself in Hawaiʽi.  At first he is disconcerted that there is no snow or any of the elements of Christmas that he is used to, but through friendship and the gift of aloha he learns to appreciate what Christmas is like in Hawaii.  Matsumoto's imaginative story comes to life with Furuya's colorful, distinctive style.  The pictures are fun, detailed and perfectly capture the personalities of the characters and places they portray.  The story and illustrations paint such a perfect picture, Ala Moana Centers and Ohi'a Productions reproduced it for a 2008 Christmas program!  You can even buy the book with a CD soundtrack of songs as well!
I hope to see many more orignal, unique holiday books come out of Hawaiʽi and not just re-writings of the old ones.  Although re-imaginings are nice, just think if Dickens never wrote A Christmas Carol and stuck with traditional yuletide tales!  There would be no Scrooge, and no "bah humbug!" and we'd be all the more poorer for it.
Pick up one of these books, start a new Christmas tradition, read with the family and enjoy one of my all time, most favorite gifts… the gift of imagination.