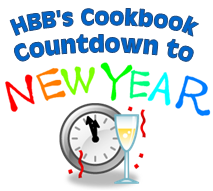 Well we have made it to the New Year!!  This is the final week of our Hawaii Book Blog Cookbook Countdown to New Year, and as its New Year's Eve Eve, we wanted to keep things simple and do a basic recap of all the cookbooks we covered in our countdown and share with you something we found that is really cool.
Misty was busy preparing for our New Year's Eve celebration, so she asked me to attempt to fill in her shoes on this front and finish out our cookbook countdown.  I have to applaud Misty on her dedication to the series, even in the midst of the holidays, she was able to come up with a post every week on Thursday/Fridays for the past seven weeks.  Not an easy feat considering our full-time work schedule!
Misty wanted to share with you some really cool vintage Hawaii cookbooks she found on this website [oldcookbooks.com].  Here are just a few of the classic covers we saw: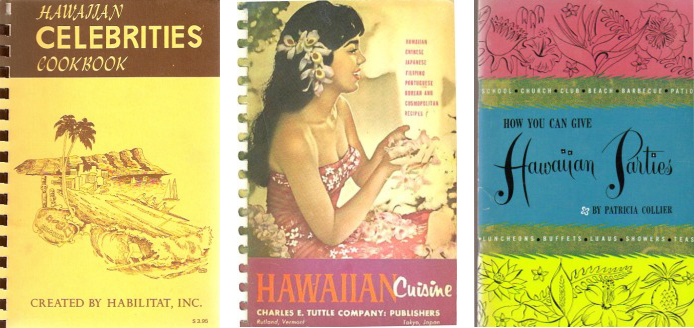 Pretty cool, huh?  I think it'd be interesting to see what kind of foods they considered "Hawaiian Cuisine" or worth cooking to give a "Hawaiian Party" and how these cookbooks would compare (these are pre-1970s) to the ones we have today or after the 1970's Hawaiian Renaissance.  The celebrity cookbook is funny because it includes recipes from U.S. Senator Daniel Inouye and former State Senator Fred Hemmings Jr. among other Hawaii celebrities.
Anyway, to finalize this cookbook countdown we wanted to do a quick recap of the books we covered, so you have a one-stop reference point to searching for and finding these excellent cookbooks.  Mahalo to all the Hawaii publishers who provided us with the means to review these excellent books.  The links in the titles below re-direct you to our HBB review.

Cookbook Countdown Week 1:  By Request 2 by Betty Shimabukuro
Cookbook Countdown Week 2:  Aunty Audrey's Big Island Eats by Audrey Wilson
Cookbook Countdown Week 3:  Hawaiian Country Tables by Kaui Philpotts
Cookbook Countdown Week 4:  Hawaii's Holiday Cookbook by Muriel Miura & Betty Shimabukuro
Cookbook Countdown Week 5:  The Blue Tomato by Alan Wong with Arnold Hiura
Cookbook Countdown Week 6:  What Maui Likes To Eat by Tylun Pang
Cookbook Countdown Week 7:  Compilation of past HBB Cookbook Reviews feat. Hawaii's Party Food, Kau Kau, The Hawaii Farmers Market Cookbook 2, and Hawaii's Bento Box Cookbook Second Course.
And there you go!  Misty had a blast writing these reviews for you, and I had fun reading them along with her.  Although she never mentioned which one of the books was her favorite, I have to say that when I first saw The Blue Tomato I was blown away with how pretty it was and the care and detail put into the book.  Very high quality!  Of course, I'm not much of a cook, so my opinion is suspect, but each of these books provided us with some fascinating and tasty aspect of Hawaii's unique culinary culture.
We hope you have enjoyed our Cookbook Countdown the last eight weeks and really hope it has helped you in considering buying at least one of these awesome recipe collections.  We just want to wish all of our readers our there a Happy New Year~!!!  We will see all of you again in 2011!!  Mahalo for reading and staying with us, we appreciate it!