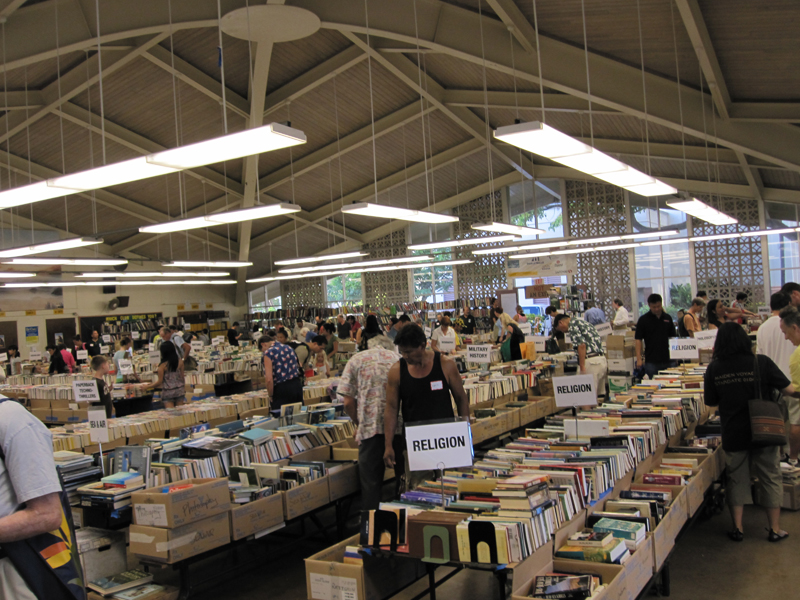 We stopped by the 63rd Annual Friends of the Library of Hawaii Book Sale at McKinley High School after work for the Members' Preview Sale and we're back with the scoops for everyone who couldn't make it out tonight and are planning to brave the sale this weekend.
We are happy to report that as far as first appearances go, this year's sale seems to be bigger than the uncharacteristically sparse selection they had last year. We've taken the liberty of scanning the layout map so you can peruse it ahead of time (see bottom of post). Although not as big as the sale in 2008, this year the keiki books, cook/hobby books and videos/comics are outside in the adjoining lanai (same as last year) and there are FOUR cashiers stationed out there to keep the lines moving quickly.
There are TONS of cookbooks this year, and even though they tend to move pretty fast it looks like you have a pretty good chance of finding something if you're interested. The Hawaiiana section appears to have a nice selection with quite a few new books in the mix. As usual this is where all the drama tends to unfold as people crowd around the table and shelf against the wall staking their claim at entire sections of books to look through—creating barriers with their bodies and tote bags so you can't reach or see beyond them. Heaven forbid you should pluck a book out of someone's "territory" and suffer the wrath of their stink eye.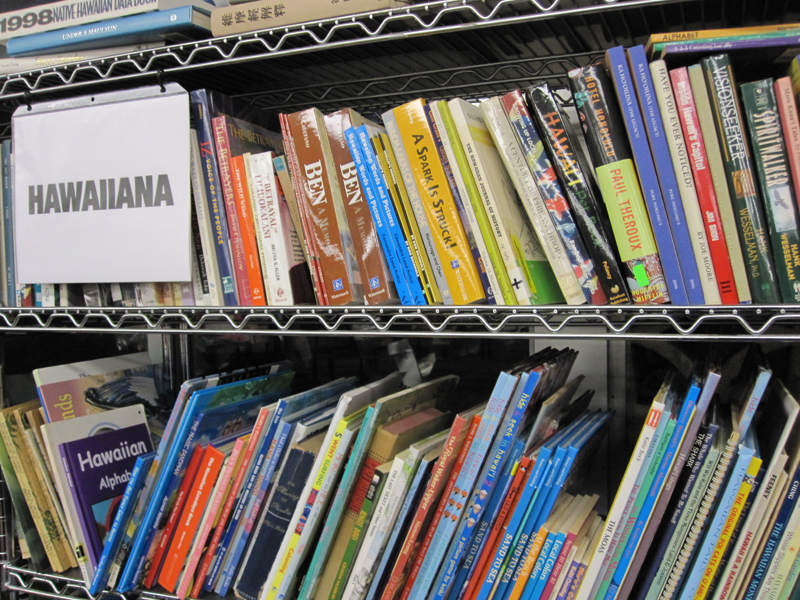 We love that everyone is so enthusiastic about Hawaii books but sometimes it surprises us how "rough-take" people can be when it comes to out of print Hawaiiana. It was like a toilet paper sale at Longs… people could lose important appendages!
Technical books and finance are a bit on the small side this year and they've been banished to the back wall but there's a fairly large section dedicated to mystery and suspense which we like. There's a whole long table dedicated to Sci-fi and in fiction and literature, I saw multiple copies of bestsellers all going for $2 or less. So don't forget your tote bags and back packs folks!
All in all, it looks like it's shaping up to be another fantastic sale put together by the Friends of the Library of Hawaii.  Mahalo to them for all of the hard work their volunteers put towards making this sale happen.  I highly recommend if you are reading this to drop down to McKinley High sometime this week and check it out.  You never know what diamond in the rough book you might find for only $2.  We've already snagged a few rare collectibles and dirt cheap author-signed Hawaiiana fiction books, so treasure hunt away!  Hope to see you there…
Resources