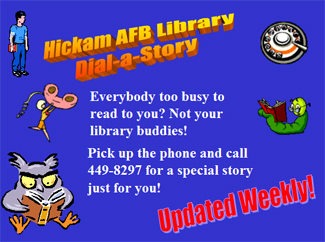 For those of you who follow Hawaii Book Blog on Twitter, you may have noticed that every week we inform you about the latest story being featured on Hickam AFB Library's Dial-a-Story.  We think this is a fun and unique way to spread literacy to children.  Basically, you dial the phone number (808) 449-8297 and a recording will play with a narrator relating a quick fable, folk story or fairy tale.  Here's a sampling of some of the stories they've read the past few weeks for Dial-A-Story:
The Rabbit and the Coyote (a Pueblo Tortoise & Hare)
Sleeping Beauty
Coyote & Woodpecker (another Pueblo tale)
The Donkey in the Lion Skin (Aesop)
Wylie (the Sheep Dog)
Little Ida's Flowers
My Own Self
The Stars in the Sky
I've only heard narrations from two different voices.  The latest one, a lady, has a very sweet Glenda the Good Witch kind of tone about her.  The previous narrator had an interestingly hokey, 50's children's television kind of voice.  The stories themselves are quick, lasting three to four minutes in length.  They're great for kids to have a mini-storytime if you are too busy, or to keep them occupied for a couple of minutes, or if you just love being read to!  So if you have a couple of minutes I recommend that you check these out.  They'll bring you back to childhood!
And if you are military, make sure you support the Hickam AFB Library by visiting and bringing your kids!  You can check out the Hickam AFB Library website at: