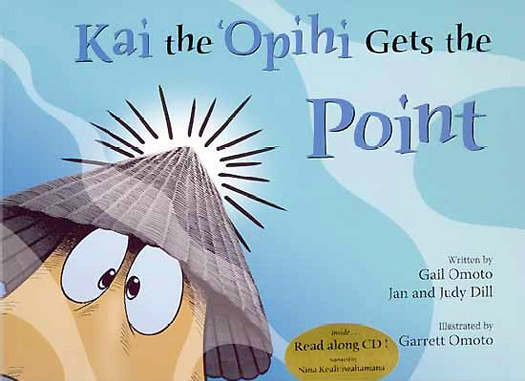 The wonderful folks at Partners in Development Foundation are holding a quick little sweepstakes where the winner receives a free copy of their charming keiki picture book Kai the 'Opihi Gets the Point.
From the contest, here is a snippet of what the book is about:
In this story of adventure, bravery, and wisdom, little Kai the 'Opihi (a limpet in English), struggles with his fear of the ocean and the resulting fact that his shell is flat and not pointy and muscular like all the other 'opihi. His friends – the eel, turtle, octopus, bird and crab – all try to give Kai solutions to his problem, but it is finally Tūtū 'Opihi, Kai's grandmother; who gives him the needed insight and courage to persevere and overcome his dilemma. Based on real situations in nature, Kai also models for our children the Hawaiian value of "ho'omau," or perseverance. Kai is the first in our series, "Kai and Friends" which is written by Gail Omoto and Jan and Judy Dill and illustrated by Garrett Omoto. This book comes with a read along CD, Narrated by Nina Keali'iwahamana.
To enter the contest, you need a Facebook account, "Like" the Kai the 'Opihi Series Facebook page, and be willing to allow the Facebook app Easypromos on your account. Just do what I did and set your privacy to "Only Me." (Note: I didn't enter the contest, so don't worry, I won't steal your book!) Registration for the contest is open until January 25, 2013 at 12 Noon.
If you're still not convinced, check out this inspiring review of Kai the 'Opihi Gets the Point from former Hawaii Book Blog contributor Dawn Sueoka. This is a fun and educational book for kids, and Partners in Development are offering you a fantastic chance to win a free copy of this book with very little hassle. So, help them out, "Like" their Facebook page and try your chances at winning a great book to add to your local keiki library.