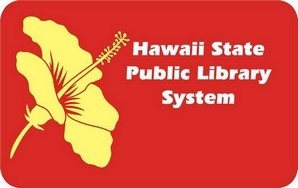 Just a friendly reminder for our Hawaiʻi residents with library cards:
You've probably heard for the last few weeks on the news and in print that the Hawaii State Public Library System (HSPLS) will be purging inactive accounts from their patron database.  The purging will happen on Friday, June 1st.  According to the HSPLS, removing these accounts will provide an updated, accurate database for better business and management purposes.
If you're worried about losing your library card privileges, the criteria the Library is using to remove accounts is pretty strict.  You must have an account with an expired library card and:
No borrowed library material in the past three years and
No outstanding items, charges or fees; and/or
Whose card holders are former residents who have relocated from Hawaii
Now, I expect people who actively read Hawaiʻi Book Blog to have an updated library card, but, in case you haven't checked anything out in the past three years, your account might be purged. If you use the Library strictly for Internet computer usage or subscription databases, and do not borrow materials, your account may also be purged.
If you visit your local library with your library card and find out that your record has been purged, they will reactivate your card for free, provided you complete a new library card application form and present it with your card and a valid ID.