It's HBB's Summer Reading Challenge Update for Week 2! This was a busy week for us, mostly for Alex, and I took the opportunity to catch up a bit. Monkey got through 191 pages this week and Robot finished up with 342 pages! That means Monkey has a total of 800 pages read and Robot has 789—it's close again! Meanwhile, you can still sign up for the reading program at your library. Keiki can receive gift certificates and other prizes while adults are eligible for free DVD rentals, free books or CD's if available. All you have to do is read one book a week.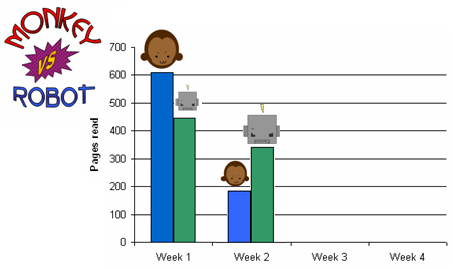 ROBOT
Don't Bet on the Prince: Contemporary Feminist Fairy Tales in North America and England edited by Jack Zipes (201 pages to finish the book)

One of my favorite stories in this book is actually a poem "BriarRose" by Anne Sexton about Sleeping Beauty being an insomniac after being saved by the Prince. It's rather dark and foreboding with insinuations that the Prince only saved her from the curse and not from the things that actually haunt her, like her abusive father. But the initial imagery is rather humorous so you get kind of mixed up about it all. I sometimes enjoy stories that force me to feel so many things
Folks You Meet in Longs and other stories by Lee Cataluna (141 pages)
I loved this book so much, and being that it is a local book, I'll have to write a proper review of it later. Lee Cataluna has such a talent for capturing people; her writing is both strong and subtle. It's like her cleverness just kind of sneaks up on you, but jumps out at the same time. This book is equal parts sobering, hilarious, sentimental, joyful and even a little bit sad. I felt like I knew these  people, that I am these people.  More on this later.
MONKEY
Ghostwritten by David Mitchell (170 pages to finish the book)
Finished up this novel, and liked Mitchell's writing enough that I put his novel Cloud Atlas on my Goodreads "To-Read" bookshelf.  I'm still trying to figure out if I like the ending or not.  I thought Holy Mountain was a great story, and I was fascinated by the disembodied character in Mongolia. For the most part all of the tales held my interest, even Night Train which I know gets mixed reactions, and I thoroughly enjoyed connecting the dots on how all the stories were linked.
Fierce Heart: The Story of Makaha and the Soul of Hawaiian Surfing by Stuart Holmes Coleman (21 pages)
Just started this book, it's somewhat of an assignment for me as I'm going to be putting out a review soon.  This book will be re-released in paperback in the coming month so I'm trying to read through it this week.  I'll share more on this later, but already I'm thinking this book could easily earn a spot on our Iconic Covers post.  Everytime I see it at the bookstore, I know immediately what it is.  Mahalo, Stuart for the copy!