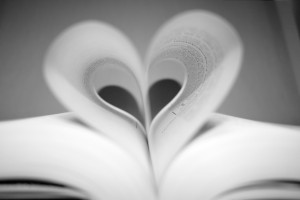 Happy Valentine's Day
I don't think there's any other "holiday" that can inspire such a variety of opinions and reactions in people like Valentine's Day does. It's often the holiday people love to hate, an excuse to take their cynicism to obnoxious levels. While I certainly agree that it's one of our most commercial occasions, I still love Valentine's Day. Obviously we should show how much we care for our loved ones everyday, but on Valentine's I feel like it's a chance to celebrate love in general. All kinds of love–romantic love, family love… love for books.
In honor of today, I decided to put together a quick book list about Pele, one of the most passionate goddesses of Hawaiian legend. Formidable and volatile, Pele is known for her vengeance and temper…however, in almost every tale of this fiery goddess's exploits, Pele is expressing her grief, her jealousy or her frustration with love. As far as romantic love goes, she was sometimes attached to unsavory characters, one very tricky man in particular, and all the good men she did come across were usually taken. Other tales of Pele focus on her interations with family. Although she loved her sisters, they were fiercely competitive in that sibling rivalry kind of way. It's not hard to relate to that. Here's where you can find and read a bit about Pele and all her glorious and dysfunctional experiences with love.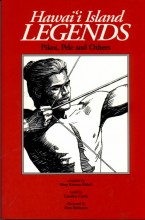 Hawaii Island Legends: Pikoi Pele and Others (Kamehameha Publishing) by Mary Kawena Pukui and retold by Caroline Curtis is a good starting point for reading Pele's tales. Mary Kawena took great care in preserving the folklore of Hawai'i and the set of books released by Kamehameha Publishing is a great resource for learning about local legends. Although you'll find stories of Pele in other paranormal collections about the islands, the stories in Pukui's books are much more indicative of Pele's spirit and personality.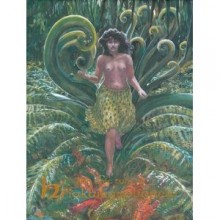 The Epic Tale of Hi'iakaikapoliopele  (an Auwaiaulu publication) translated by Puakea Nogelmeier is a tremendously amazing book. Originally published in Ka Na'i Aupuni by Ho'oulumāhiehie in 1905-1906, the text was meticulously researched and translated by Nogelmeier. Beautifully enhanced with artwork by Solomon Enos this is one of the best cultural books of Hawai'i. Be warned, it's quite lengthy and although primarily focused on Hi'iaka, it really provides wonderful perspective and insight on Pele ( Hi'iaka's older sister).
There are accounts of Pele's adventures in many works by early Hawaii historians like W.D. Westervelt, Nathaniel Emerson, and Martha Beckwith. Many of these texts can be found for free in the Public Domain. If you have a Kindle or a Kindle App on your phone/iPad you can download Unwritten Literature of Hawaii: The Sacred Songs of the Hula by Emerson for free here. And you can get Hawaiian Legends of Volcanoes by Westervelt here, via Google books, in any format.
If there's anything, through my reading, Pele has taught me about love it's that despite its ups and downs, its losses and its gains, you should love with your entire being–your whole heart. Be yourself, express yourself and do not be afraid. Be fearless in the face of love, strong in the midst of heartbreak, unashamed of what you want and ever present in what you do.