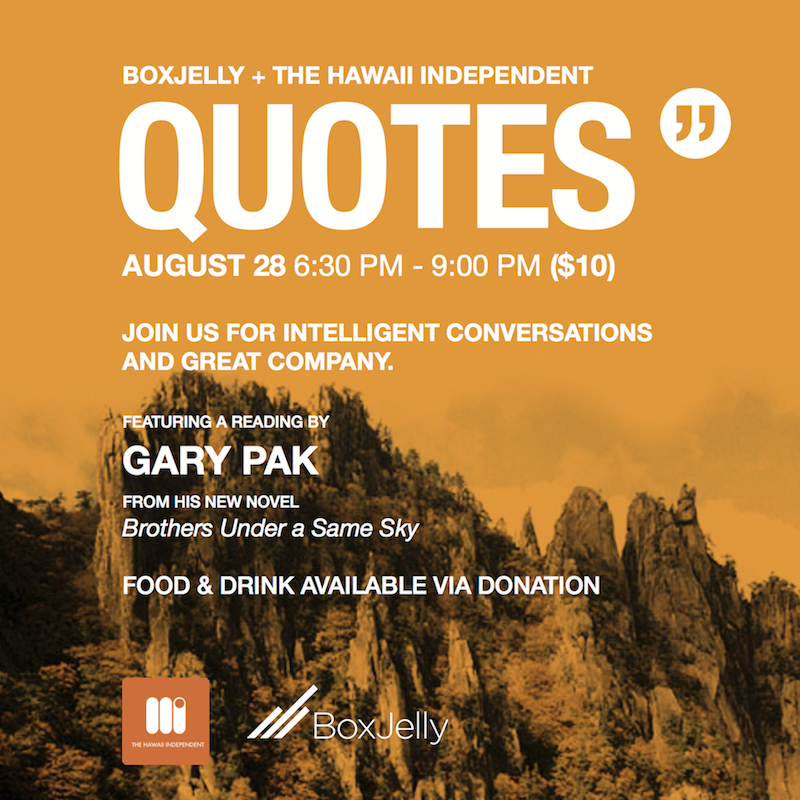 A partnership between local news website The Hawaii Independent and coworking space The Box Jelly brings us Quotes, an evening of smart conversation and great company. For the first iteration (of hopefully more to come):
We're exploring the modern Korean and Korean-American experience. Novelist Gary Pak will read from his new novel "Brothers Under A Same Sky," with additional commentary and discussion from Annie Koh.
The event will be held at The Box Jelly, located in Kakaʻako at 307 Kamani Street. Food and drinks will be available by donation. Tickets can be purchased for $10 from EventBrite or at the door. Special discounts are available for members of The Hawaii Independent. For more information, contact them.
Here's a description of Brothers Under A Same Sky from UH Press:
Nam Kun and Nam Ki Han, brothers born on a Wahiawa sugar plantation, could not have been more different. Pragmatic and stubborn, Nam Kun dutifully supported his family but refused to become "one Christian fanatic" like his widowed mother and youngest sibling, Nam Ki. When Nam Ki is drafted into the army at the start of the Korean War, he tells Nam Kun that as a Christian he cannot kill. "You gotta do it," Nam Kun replies, thinking the war will make a man of this "mama's boy. "

Nam Ki finds refuge from the chaos and brutality of life as a soldier in his love for a young Korean woman, a Christian. He returns after the war to search for her and discovers she has become a prostitute. With his sense of reality shattered, Nam Ki must choose between his faith and all that he has witnessed in war-torn Korea. Brothers under a Same Sky explores the social and psychological turmoil experienced by Korean Americans during and after the war but, more importantly, it examines the individual's decision to keep—or betray—a fundamental belief in human goodness. Set amid the social and political disruptions and forced separations that have characterized the history of modern Korea, this is the story of a struggle toward healing, unity, and perhaps a reconciliation between love and hatred.