It's been awhile since we've had a guest blog post. The last time was author Margaret Dilloway who blogged about the joys and challenges of novel writing while living in Hawai'i [read post here]. We like to have guests post because it helps us gain new perspectives on local literature and encourages us to recognize different points of view. Diversity after all, is what makes Hawaii's literary community so unique. As far as we've come in our appreciation of different cultures and traditions there's still a ways to go and lots more room for local voices to be heard.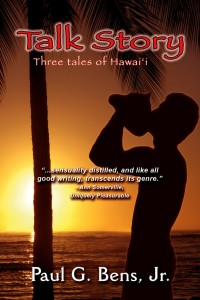 This brings me to an author who we consider a great friend of HBB, Paul G. Bens Jr. Although he lives in California, he visits Hawaii as often as he can and has written several gay fiction stories that take place in the islands.  In December of 2010 Paul combined these stories into a collection that he has published as an ebook. Read more info about his book here.
Mahape a ale Wala'au is a story from the collection that has won much acclaim. Bens has a talent for capturing the atmosphere of the islands. But what I like most about his writing is that his characters are so heart-breakingly real, and their struggles so universal that whether you're gay or straight, you're still drawn into the story.
From the meager beginnings of Hawaii Book Blog, Bens has been supporting and rooting us on in the background. He was our first fan on Goodreads, and has always been around to participate in discussions or make recommendations. In fact, the more I interacted with Paul, the more I realized he really knew his stuff, and was passionately interested in Hawaii's literature. He's more knowledgeable about Hawaii books and history than many people living here and I was curious to know what it was about local literature that interested him so much. So one day I asked, and here we are.
Paul's tale is very interesting from a writer's point of view. In his first post you'll learn a little bit about what inspired him to write stories about Hawai'i, it's people, and history. But as Paul read more and more literature of Hawai'i and the Pacific, his views started to change. So, in his second post he talks a bit about that change and how it affected him as a writer and a reader.
Many mahalos to Paul for his participation, we are honored to have him as our guest in the following posts.
Guest Post (part 1): A Haole Writes…