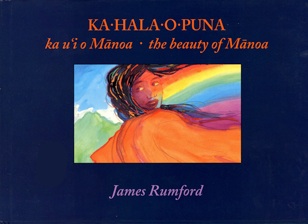 This review is part of our 'Book Fair and Blog-a-Thon Benefit' for First Book-Oahu. Six keiki books in six hours!
James Rumford is one of the classic names in Hawaii illustration. Both an exceptional author and illustrator, when you read a book from Rumford you know you will be in for a genuine experience.  Kahalaopuna, which Rumford both authored and illustrated, fits nicely into the literary canon of his work.
The story of Kahalaopuna is not his own, but an old Hawaiian story retold and illustrated under Rumford's skillful hand. It tells the tale of a daughter of Mānoa Valley—born from the wind and the rain—Kahalaopuna "was so beautiful that a rainbow followed her wherever she went." Betrothed to the chiefly Kauhi, two jealous friends fill Kauhi's mind with jealous rage, causing him to take the life of Kahalaopuna—which due to resurrection by her guardian owl happens more than once. Eventually she escapes and meets a kind man, Mahana, to whom she lives happily with in secret, that is until Kauhi finds out. Ultimately, though the tale is somewhat tragic, it ends with justice as Kauhi is forced by the gods to lay down upon Waʻahila Ridge where he remains to this day as the Sleeping Giant in Mānoa Valley. And you can still find the spirit of Kahalaopuna alive in the stunning rainbows spanning Mānoa Valley.
This is a beautifully illustrated book both inside and out. Rumford's vibrant watercolors stand out on the page and compliment this old Hawaiian tale well. The illustrations are both realistic in style but with a wonderfully dreamy, ethereal aesthetic that is brought forth in the color and technique. I love the rainbow wave of colors found in Kahalaopuna's hair, and the sharp, aggressive style in the tattoos of Kauhi and his friends. The subtle way Rumford uses color and the positioning of his subjects to enhance the story is truly masterful.
For the gorgeously rendered way Rumford brings this mythical Hawaiian story to life, I highly recommend this book. It may not find immediate interest in younger keiki, but due to its cultural significance and the crafted way Rumford approaches his material, its one that will resonate with a person at any age.