For good and bad, modern technology is allowing the publishing world to expand beyond its traditional processes (more on this at a later date). Alex and I are starting to see a lot of books by small, local publishers or authors who self-publish. I think the editorial process is very important, but I am also thrilled at the idea of such unimpeded possibilities.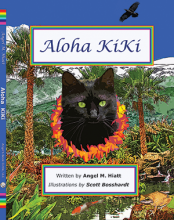 Aloha KiKi by Angel Hiatt is the flagship keiki book of Angel's Book Circle. Aloha KiKi is an adventurous cat who starts her day waking up in her favorite flower covered chair. She goes about her morning routine and her escapades begin as soon as she swoops out of her cat door and into her magic secret garden–a garden made magical because of all the lush, tropical plants and animals that make the Big Island of Hawai'i their home.
The pictures in the book were done by Scott Bosshardt. Each page  is composed of various elements all photoshopped together to create a scene… so some of the angles and sizing are slightly off. He liberally uses "poster edges" and other Photoshop filters to make the cut-and-paste pictures appear more cohesive with an ultimate effect that's neither photo nor illustration. The kids didn't seem to mind this very much but it was hard for them to see Lula the gecko and the other small animals. I'm not sure if it was intentional but similar to the "I-Spy" Books and "Where's Waldo?",  Aloha KiKi was more like "Where's the Coqui/Gecko/Dragonfly?", than anything else. They had fun with that.
The kids also didn't seem to notice how the book magically morphed from present tense to past tense, and then back to present tense in a two sentence time frame. Or that each picture is surrounded with a rainbow frame that looks like it came off of a free clip-art website from 1990. Despite these things and a few grammar errors, Aloha KiKi has a good message; we live in a beautiful and wondrous place where everyday an adventure is waiting just outside your door. Also, 10% of the proceeds from the book's sales will be donated to the Hawaii Island Humane Society (since Aloha KiKi was a rescued cat). If your kids love cats then they'll enjoy Aloha KiKi and her garden journey. Plus, any book that helps the community in some way is alright by me. 🙂
I think this book is a nice start for Angel Hiatt and I have every confidence that her next kid's book will be even better.
*A copy of the book was provided by the publisher in exchange for a fair and honest review.
Book Events!
Saturday, February 19: Come to a special Book Event at Books, Nooks & Crannies in Hilo!  The event is from 11am – 1pm with the book reading happening at Noon!  The illustrator Scott Bosshardt will also be present.  For more information call the bookstore at (808) 961-1110.  Special note:  This event will include a special appearance by the Hawaii Island Humane Society along with one Animal Control Officer and one Veterinary Technician, plus they will be bringing with them a few cats and dogs from the shelter.
Saturday, March 5: Come to a special author event at Basically Books in Hilo (Big Island).  Author Angel M. Hiatt and Illustrator Scott Bosshardt will be present to discuss and sign copies of their new book "Aloha KiKi."  The event is from 10am – 12pm with a book reading at 11am.  Call the book store at (808) 961-0144 for more information.