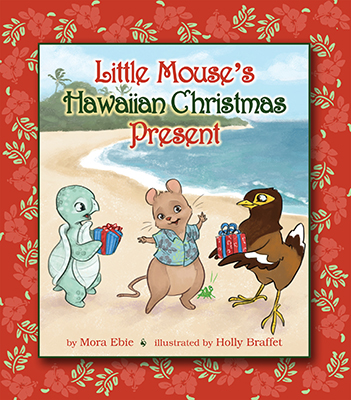 Little Mouse's Hawaiian Christmas Present (Mutual Publishing, 2011) by Mora Ebie and illustrated by Holly Braffett is one of this season's cutest Christmas books for kids.
Little Mouse is having a problem we can all relate with. He hasn't been able to find a Christmas present for his Mom and Dad. As the holiday approaches Little Mouse's friends try to help give him ideas by sharing what they've gotten for their own parents. Even after a desperate plea to Santa, Little Mouse has nothing to give except a hug. But it ends up being the perfect gift.
All our Hawaiian animals friends are present in this yuletide tale about love and giving. From Little Mynah bird to Little Honu! All manner of local style gifts are given too–from puka shell leis to ukuleles and everything is beautifully illustrated in charming detail by Holly Braffett. Holly is the talented artist who  brought us Kekoa and the Egg Mystery and other local picture books. Well, she's worked her magic again and captured all of Hawaii's animals  with her unique style of drawing. She gives her illustrations a "local look" through patterns, textures and colors that are vibrant and deep, yet not over the top. And I love how all the little animals have short, chubby legs!
Sometimes the people closest to us are the hardest to shop for. It's easy to get caught up in the search for the perfect present but Mora Ebie has written a timeless story to show children that the holiday isn't just about giving and receiving presents, it's about spending time with your family. This is an adorable book for the holidays that would make a nice gift or even a good read-aloud tradition every year.
Little Mouse's Hawaiian Christmas Present
by Mora Ebie and illustrated by Holly Braffett
Mutual Publishing, 2011
ISBN Hard Cover: 1-56647-950-9