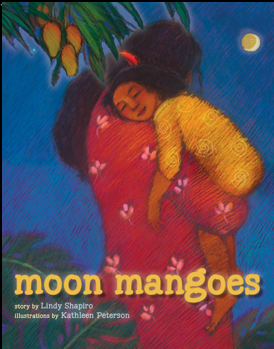 Moon Mangoes is a new kids book by first time Maui author, Lindy Shapiro. BeachHouse Publishing just released it for fall 2011 but it's already a classic.
In the book, Mama and Anuenue are sitting on the lanai watching the evening shadows dance over their mango tree. This prompts Anu to ask, "What if I ate up all those mangoes one by one, and I got so full of them that I turned into a mango tree?" Mama replies, "Then I would bring you fresh, cool water to drink every morning. I'd gently pull out any weeds that block the sun and keep the soil healthy for your roots to grow deep and strong. And I would spend my days resting in your shade so that I could tell you about the fantastic adventures of your great-great-grandparents."
Anu continues to ask her mother a series of creative "what if" questions (including what would happen if she were turned into a pua'a who got all muddy), to which her mother replies with equally creative answers that always express her love and devotion. Mama's answers assure and comfort Little Anuenue until she finally drifts off to sleep.
Shapiro was inspired to write the story by her own children and their persistent questions about things around them. In Moon Mangoes, she's composed a timeless book that captures the spirit of a child's imagination and the powerful influence of a mother's love. Similar to the popular "Guess How Much I Love You" books by Sam McBratney, Moon Mangoes is a very special story to share with your keiki.
Kathleen Peterson's illustrations are phenomenal. The colors and textures simultaneously convey  the emotional connection between the characters and the comfort of balmy Hawaiian nights. Full page pictures make you feel immersed in the story, enveloped, as if you were under the mango tree with them.
Moon Mangoes is high up on HBB's list for favorite keiki books and it would make a gorgeous gift for a loved one. I can't recommend this book enough. Five shakas! For more info on the author and this beautiful book check out this nice interview with Linda Shapiro in The Maui News.
[gn_divider]
Moon Mangoes
by Lindy Shapiro
illustrated by Kathleen Peterson
BeachHouse Publishing, 2011
36 pages, hardcover
ISBN: 978-1933067421
*Disclaimer:  We received a complimentary copy of this book from the publisher in exchange for our honest review.