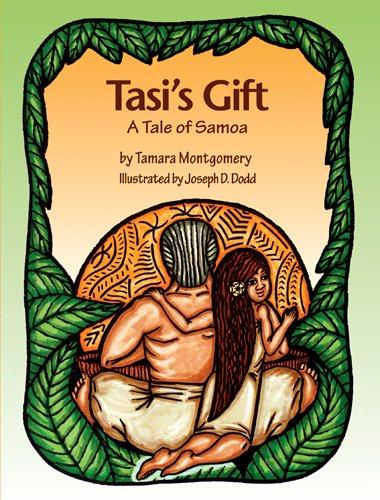 Calabash Books, established in 2007, create finely illustrated children's picture books that traverse the cultures along the Pacific Rim through fun and engaging stories. In previous installments, the author team of Tamara Montgomery and Jodi Parry Belknap along with illustrator Joseph P. Dodd have taken readers on an award-winning ride from Indonesia to the North Pacific and back down to New Guinea.  With their latest book, Tasi's Gift: A Tale of Samoa, Montgomery and Dodd continue this tradition with a magical tale from our island neighbors in the South Pacific.
The book tells the tale of Grandfather Tasi, the most famous bowl maker in all of Samoa.  One day, his granddaughter, Tuala, visits him on a very important day.  Tasi must make a beautiful big bowl from the ifilele tree for the new Matai, or village chief.  It's going to be the biggest bowl he's ever carved.  With Tuala tagging along, Tasi's Gift takes us through this cultural process as Tasi searches the forest for the right ifilele tree, chops it down, carves the cut piece of wood into a bowl, and buries it in the mud for the length of a moon cycle to give a nice dark finish.  Unfortunately, despite its impressive size, Tasi's bowl is quite plain and he is stumped as to how he can make it "beautiful enough for the Chief." Soon enough, Tasi suddenly finds that his kind-hearted and generous demeanor pay off in his hour of need.
This is another fine book in Calabash's Pacific Rim Series of children's books.  It's rich with cultural heritage, respect for nature, and the passing of generational knowledge.  Joseph D. Dodd's illustrations lend the story a mythic and magical atmosphere, grounded by the earthen and natural colors of Samoa.  The story teaches elements of Samoan crafting as well as a reverence for nature and respect for all living creatures.  It's nice to see Tuala follows so closely in the good example of her grandfather.
One of the fun things I enjoyed was the prevalence of flying foxes in the book.  According to the book jacket—where notes on culture, plants, and animals are located—these are also known as fruit bats.  Unfortunately, they are currently endangered in Samoa due to natural disasters and hunting.  The native animals were abundant in Dodd's illustrations, always either watching Tasi and Tuala from the leafy borders of each page or crawling onto the scene to offer assistance or kinship.
If you didn't know, Tasi's Gift is also a play performed by the Honolulu Theatre for Youth.  So, not only can your child enjoy the book, but they can also take in a live performance of the story full of song and dance.  Next week on Saturday, December 17 will be the last scheduled opportunity for a book signing with the author.  Autograph sessions will occur both before and after the live show, which starts at 4:30 p.m.  Shows are held at the Tenney Theatre in the Cathedral of St. Andrew.  You can find out more information about the show and buy tickets at:  htyweb.org
Tasi's Gift: A Tale of Samoa
by Tamara Montgomery
illustrated by Joseph D. Dodd
Calabash Books, 2011
32 pages, hardcover
$16.95