Happy Young Reader's Day! It is part of National Young Readers Week started in 1989 by Pizza Hut and the Center for the Book in the Library of Congress. Visit the Book It Program website for free stories and printables to share with the kids.
Here's a new keiki book review to help you celebrate!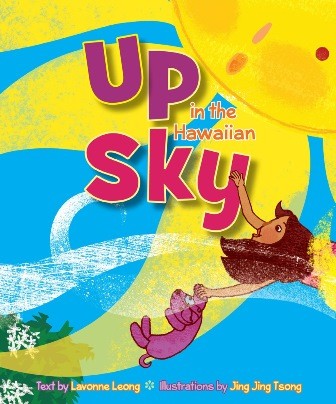 Up in the Hawaiian Sky (2013) is the latest board book from BeachHouse Publishing. It is about a little girl who goes on a journey with the sun. Together they encounter all sorts of things in the Hawaiian sky.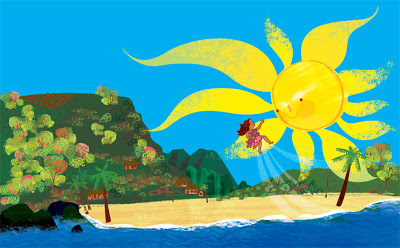 "Aloha!" I said to the rising sun,

And she beamed as she said, "Come with me today."

She scooped us up in her long, bright rays

Up, up, up into the Hawaiian sky.
What I love about this book is that it is a unique adventure from a different perspective. The little girl and the sun look down at  kiawe trees, baseball fields, stone walls and airplanes. They chat with the wind, fly with a kōlea bird, snuggle with a cloud and watch a rainbow stretch across the sky. Children will be enchanted at the idea of seeing the world up high.
Simple words and a steady rhythm make reading this book out loud fun and easy. Especially for parents who find themselves reading stories many times over. The rhyming is varied and none of the words are forced, but they have a flow and movement to them that is reflected in the story and illustrations.
Author Lavonne Leong and her young daughter would often sit on the lanai and look up into the morning sky to see what they could see. This, and Hawai'i's legends about the sun's daily journey across the sky, were inspirations for this wonderfully whimsical story.
Illustrator Jing Jing Tsong returns with her signature style. Simple shapes and lots of texture, she easily conveys and sense of motion and weightlessness for the little girl and her stuffed dog Poki. Jing Jing Tsong also illustrated Twinkle, Twinkle Small Hoku, Aloha Zoo, and Sam Surfs.
This has become one of my favorite books in the BeachHouse line. The lovely illustrations will attract little readers and inspire them to imagine what other adventures the could have way up in the Hawaiian sky. It would make an excellent gift for the holidays, and a fun book for both parents and children. What do you think you would see up in the Hawaiian sky?