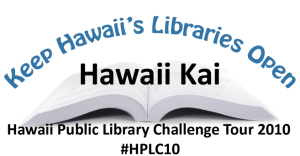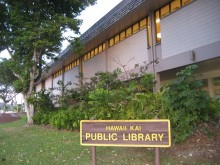 Hawaii Kai is far. Not really…but it sure seems that way.  With the two of us being more West Side than East, going to Hawaii Kai is somewhat of a treat…or at least a rare occurrence.  We like the different vibe: the wide open proximity to the ocean, the touch of affluence, the proliferation of residential docks and boats, the ominous Koko Head crater and Koko Marina Shopping Center.  Even the air smells a little different.  And anytime we're in the area we always end up driving around deciding which unique restaurant to try.  Now, we can add the Hawaii Kai Library to our list of interesting places in Hawaii Kai to visit.
The library is located across the street from Koko Marina Shopping Center on the Lunalilo Home Road side. When we pulled into the structure, one of the pleasant surprises we had was the covered parking.  I think McCully-Moiliili Public Library is the only other library on Oahu to have this feature—so it really is a nice luxury, especially if it happens to be pouring rain (see Waikiki-Kapahulu).
The Building
"This building is a little over thirty years old," explained Branch Manager Colleen Lashway, and it's not without its history and perks (see "The Haunting" paragraph below). There is also a strong community vibe that permeates throughout the library. There are a number of local organizations from Hawaii Kai who use the library as a place to meet.
At first we were curious about the obvious influence of Japanese art and history in the library's décor. Big sakana windsocks hang from the ceiling, Japanese paintings adorn the walls, and Japanese dolls and other artifacts are on display in glass cases. One organization, the Hawaii Kai Lions, contributes much to the library in the form of gifts, monetary donations, building painting and yard cleaning. Colleen mentioned that "there is a long ongoing Hawaii Kai Lions friendship with Nagoya, Japan that spans 22 years." The two groups jointly make annual donations to the library and in 2007 they donated gifts including a samurai face mask.1
One reason community groups feel so at home at Hawaii Kai Library is their awesome meeting room. When you enter from the parking lot, you find yourself in an enormous room which also doubles as the donation area.  When we were there, there were benches along the wall and tons (I mean, TONS) of boxes full of books; we had really seen nothing like it before.  It's a very unique and useful space for Hawaii Kai to have—Colleen says the space is used by many organizations and can be rented out for presentations. It was even used by the Hawaii Blood Bank (our fellow HBB) when the bloodmobile broke down.
Everything else is on the second floor—and is accessible by stairs or elevator.  Immediately upstairs is a little loft that houses the restrooms, free magazines, videos and four shelves of books on sale. The library itself is one large, continuous room with no walls or dividers—one big cavernous space.  Perfect for yelling—if that was your thing, but I would recommend keeping quiet. Of course, having one large space can make it hard to separate things, but the staff here have done a great job using shelves and prominent signage to distinguish the separate areas.
The Collection
From the entrance, immediately to your left is the children's and juvenile section. Decorated with a cute play area full of children's seating, stuffed animals and toys, it's a cute, organized area boundaried off by different carpeting. They even separate the "Hawaiian Easy" books and picture books from the rest. Another thing Misty and I like are the convenient plastic pockets hanging from the bookshelves that contain readily available book lists for kids to peruse on a wide variety of subjects and categories.
Towards the back, one of the most prominent sections is the Mystery/ Suspense section. There are 4  low level book cases entirely dedicated and crammed full of books in that genre! Colleen summed up the community's tastes by telling us, "[Hawaii Kai Library's] customers love to curl up with crime."  They do a good job of dividing up the fiction, as they have prominent areas for Mystery, Sci-Fi, Western and even a Romance Center. The library also has a decent Hawaiian reference section with various material including cabinets of Hawaiian pamphlets, picture files, State documents and old Honolulu Advertisers.
Many libraries have honorback books, but Hawaii Kai has honorbacks for foreign books!  If you don't know, honorbacks are books from the library that you can borrow without checking out.  Basically it's an honor system for you to return the book—otherwise they have no formal means of tracking it.  A lot of this freedom is due to the amount of foreign book donations they receive.  It takes time and room to do cataloguing for new books so they often mark the surplus as honorbacks.  Of course, they will purchase popular foreign books such as those in the Harry Potter series due to high demand.
The Programs
Hawaii Kai has a number of programs throughout the year and is very oriented towards the community's tastes.  A few of the interesting things they've had in their past: Bishop Museum holding a presentation on insects, Alton Chung telling ghost stories, the Pickle Lady demonstrating her cooking, and much more.  Back in November they even held a big celebration for National Gaming Day—complete with board games for people of all ages to play.  How fun is that?  Regularly, they have a big book sale twice a year.  Also, they try to have a weekly storytime and every first Thursday a story puzzle time where kids get to play with puzzles.
The Challenges
Like all libraries, Hawaii Kai's biggest challenge is budget cuts.  Recently one staff member retired, and with a hiring freeze in effect for a long time, it's hard to get the funding or approval to hire more staff. Donations are always welcome, and you can easily leave a box full of books in the big meeting room downstairs. We happened to have a box we've been meaning to turn in, so we conveniently left it there for the library.
The Haunting
Every time we interview a librarian and ask if the place is haunted we almost always get a "no" answer.  However, Hawaii Kai Library is different! Colleen herself wasn't sure as she has only worked there for three years, but she asked some of the long-time staff and they had a story to tell. Apparently, there have been accounts from various staff members about the Hawaii Kai Library elevator being haunted. It was always after hours when the elevator would be locked.  The accounts state that even though nobody was around, the elevator would start moving on its own.  It would open, make a dinging sound, and then drop to the first floor.  A skeptical explanation given was that it may have been bugs or insects that covered the elevator's sensors…however, we were excited to finally find something and are happy to share with everyone the story of Hawaii Kai Library's haunted elevator. The funny thing is, after our visit here other librarians from different branches confirmed hearing the story of the haunted elevator. Even a few who used to work here that transferred branches would recount their experiences with it.
Book Recommendation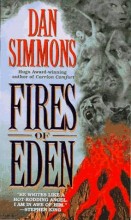 When we got to the question of a book recommendation, Colleen's eyes lit up and she began to talk about a number of books she was interested in.  We were discussing Hawaii books that would appeal to a wide audience and possibly make an impact elsewhere.  She said, it's "hard to find one book everyone will like!"  She did say she enjoyed certain books with a darker tone and that she really likes Lois Ann Yamanaka.  After further contemplation she thought of a horror novel by Dan Simmons called Fires of Eden, a novel about bad things happening at resort, but with a Hawaiian curse-kinda twist.  Or so I surmised from Amazon.  I look forward to it.  Colleen also gave us a few non-Hawaiiana book recs such as Big Island and the The Ghosts of Belfast.
I would like to take this opportunity to give a big thank you to Colleen and the friendly staff at Hawaii Kai Library.  It was most interesting to know of the famed haunted elevator!  Hope everyone is enjoying National Library Week and we will continue with another library tomorrow.