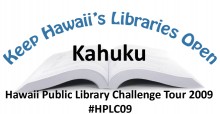 "Are we there yet?"… "no"…"are we there now?"…"no"…"we've gotta be close!"…"nope".
That's pretty much how the conversation went as we drove from town to Kahuku Public library last Tuesday night after work. Alex was driving per usual, and I was a bit anxious to get there because the library had a special guest, local author Alice Anne Parker, who would be talking about her new book and leading a seminar on understanding your dreams. When I spoke to Branch Manager Fran Corcoran on the phone about visiting her location, she was excited that we would be there for this presentation.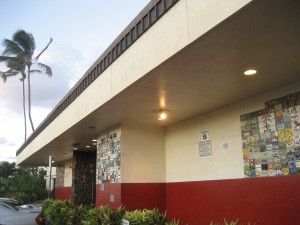 Sadly, it took us nearly an hour and a half to get to Kahuku from the airport and we were just a tad bit late. As we approached Kahuku Highschool we saw the sign from the street that said "Kahuku Public Library" but once we turned into the driveway we were lost in a sea of kids, cars and buses.  There was a volleyball game and the area was packed! We could barely find the library much less park…it was swallowed up by all the excitement and activity of the school but after asking a very nice young man for his help in locating the library, and wondering if it would be okay to double park, we finally arrived (ten minutes late) and were able to snap a few photographs before heading in. Despite our tardiness, Fran was happy to see us, greeting us warmly and shooing us into the back media room so that we wouldn't miss any more of the presentation. This amiable welcome is something we found out to be characteristic of Kahuku Library.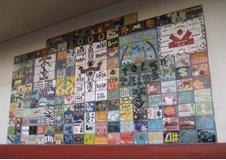 The Building:
Kahuku Public library has two hats, one for the public and one for the school, and it wears both hats very well. Situated across from the main gymnasium, the library is fairly large but parking can be a bit of a challenge to maneuver through (like Austin Powers stuck in the alley– forward an inch, reverse an inch and repeat). Both the inside and the outside of this location are very colorful and you can see how much pride the kids take in their library. As soon as you walk up to the door the front windows are covered with posters announcing events and programs.  There's no doubt that they want people to know about the various things they offer.
The library layout is quite cozy. They have a nice selection of children's and young adult books with colorful floor mats and cushions that adorn the floor of the kids reading area. The adult sections are quite a bit smaller, as you would expect from a public library that shares its resources with a school, but the reference section is  impressive and the staff is very knowledgeable and eager to help. It's not an overly large library, in fact you could probably plop a toddler down with a book and simultaneously peruse the adult section being just a few steps away, unlike other locations where the keiki  reading room is off to the side or across the library from the adult fiction/nonfiction entirely. That's definitely a family friendly convenience!
Programs:
In addition to their unique Tuesday evening programs, the Kahuku Library hosts a book club that meets every other week, at least TWICE a month! They try to organize four large community events a year but are one of the only public libraries to consistently offer a different program for adults every week in the evening.
"The reason we're able to have such a variety of weekly programs is because of the community. We are fortunate to have volunteers, like Alice Anne Parker who are residents in the area, offering to come in and share their talents!" Corcoran explained.
As the group discussion on understanding your dreams came to a close and Alice Anne signed copies of her book, Corcoran reminded everyone of the upcoming events including, demonstrations on cake decorating, making nutritious snacks, and crafting beautiful "gifts in a jar" with the lovely Ms. Sheila who happened to be sitting in on the dream seminar with us. Ms. Sheila is also a resident of the community, and this week's "gifts in a jar" presentation is one of many craft demonstrations she has taught at Kahuku Library.
Corcoran is pleased to have such support from volunteers but said that their biggest challenge is making sure people know they exist, and that they have  a lot to offer others in the community who have no association with the school, not just the students.
Corcoran is a retired school librarian who also lives in Kahuku, so she understands how the library can be overlooked. "I worked really hard to get us a sign that you can see from the highway," she said."I really want to make the library a community center where neighbors are teaching neighbors. Where people can meet each other and interact in a different format." In fact, Corcoran has personally organized many events that encourage cultural learning and understanding. She also actively reaches out to the immigrant community in the surrounding neighborhoods. "When you come from a culture or country that doesn't have libraries and public services, you might not be comfortable with using them.  I want to make libraries comfortable."
Everyone at the Kahuku Library is easy going and willing to share or talk story. It seems there's always something going on there, and unfortunately not all of this location's events are promoted on the main Hawaii State Public Libraries website. So, here at HBB we'll try our best to help Fran and the staff at Kahuku Library get the word out on their special events.
Special things to see: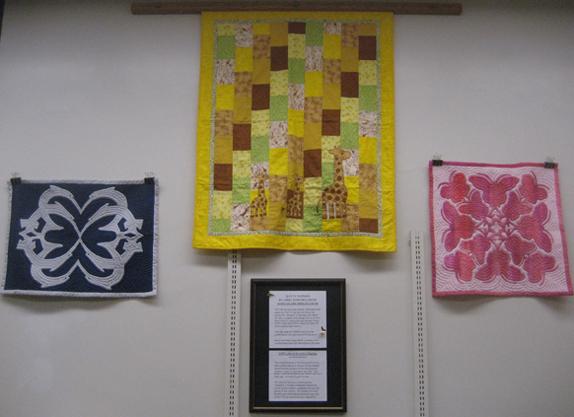 The library was just about to close and we were quickly wrapping up our interview with Fran but before we left she wanted to show us something very special about the Kahuku Public Library. Hanging near the entrance to the back media room are three Hawaiian quilts. These quilts were donated by James Rumford, an award winning children's book author and illustrator living here on Oahu. We met him earlier this year for the launch of Max and the Dumb Flower Picture and reviewed one of his books, Dog of the Sea Waves. They are part of his personal collection on loan to Kahuku Library for display.
Known for his stunning watercolor and pen drawings, Rumford pays homage to the Hawaiian culture in several of his books, some of which are also written entirely in the Hawaiian language. The quilts were made as a gift to Rumford after he published When Silver Needles Swam, the story of Tutu's Quilt.
It's a story that takes place during annexation as a family joins together to make a Hawaiian flag quilt so they would never forget "from whence they came". The family learns about quilting and other traditions from their grandmother, who sews a pattern of butterflies in her quilt. She tells them stories about the family, about the silver fish and remembering what's important. So, the quilts that are hanging at Kahuku Library were lovingly made according to the details in the story and they are wonderful to look at and read about. This is certainly something to see if you find yourself in the neighborhood.
Fran Corcoran's Hawaiiana Recommendation:
Since Alice Anne Parker just came out with a new book The Last of the Dream People, a fictional story based on the dreaming culture of Senoi tribes in Malaysia, and because she has done so much for the Kahuku community, Fran thought it'd be best to read and review her book.  Alice Anne told us a little bit about the book during the dream seminar, and mentioned that the Senoi are very skilled dreamers, much like the ancient Hawaiians. I've only just started it but the premise is interesting, stay tuned for a full review when I get back from Vegas!
HBB would like to thank Fran Corcoran and the staff of the Kahuku Library for their warm welcome and community spirit. Also to Alice Anne for allowing us to crash her class–sorry we were late and thanks for the book!