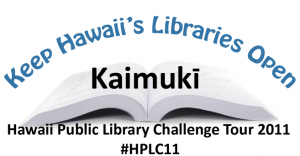 Happy National Library Week!  This year, National Library Week runs from April 10 until April 16.  In honor of this week, we wish to continue highlighting our love of local libraries by continuing our Library Tour of Oʻahu.
Nestled conveniently off the Koko Head Avenue exit of H-1, Kaimukī Public Library is one of the largest public libraries on East Oʻahu, being designated with the title of regional library.
The Building
The building was constructed in 1960, and was refurbished in the 1990's to make it ADA compliant.  This is very apparent in the number of railed-off ramp areas to provide accessibility to this library on a slope. Reference Librarian Jeffrey Eldredge even joked about it being called "the skateboard library" due to its numerous ramps and inclines, perfect for skateboard tricks.
There are "two" parking lots—a lower lot to the immediate right with some covered parking under the library, and an upper lot which leads to the drive-thru book drop, "Friendship Garden," and parking lot exit.  Sadly, like many libraries, this one suffers from a lack of ample parking spaces.  It's such a big library with a great collection; it's not a surprise that it's so popular with residents in the vicinity.
On other hand, the drive-thru book drop is very handy for people who on the run who need to return their library books but don't want to get out of their car.  Salt Lake-Moanalua Public Library has one of these drive-thru drops and I use it all the time to drop off books.  The advantage of Kaimukī's book drop is that it's automatically on the driver-side, so you don't need to be on the wrong side of the road and/or bring a friend to drop off books while in the car.
One of the more notable design aspects of the library is the way it's split up when you enter.  As you walk through the front doors, you're immediately taken to a long circulation counter.  Basically, all the staff is immediately in this area, available for you to borrow books, drop off items, and ask for help.  After that, you're forced to travel either to your left or to the right.  If you go to the right, this entire area is dedicated to the Children's and YA collection.  There is a big green mat for storytime and play, rows and rows of low shelving for kids to peruse, and ample seating for kids and teenagers to relax, study, and enjoy the library's ambiance.  On the left side of the library is everything else:  Internet terminals, CD and DVD collections, all the adult fiction and non-fiction books, magazines, microfilm, newspapers, and more.  There are tons of tables and carols to sit at; many are placed out in the center of the space, while others are hidden in various nooks and crannies for those who prefer a little more privacy.
While the decor is relatively sparse, Kaimukī does its best to provide artwork in the form of children's displays and crafts as well as a glass display case on the other side.  In this glass display case, the library will alternate between various historic, cultural and artistic displays.  For example, when we first visited Kaimukī they had an impressive display of Father Damien artwork from Honolulu Printmakers, while our most recent visit provided us with a collection of artifacts from Myanmar (Burma).  More notable than this are the immense murals which buffet the various inner walls of the library.  One of the most impressive of these is a thirty-six foot piece called "Bon Odori Hawaii" by Balazs Szabo, which consists of nine separate panels, steel-bolted together to form 'seams' reminiscent of a traditional Japanese screen1.
The Collections
Size does not only matter for Kaimukī Library's murals, but also for its massive collections.  Walking around the library, one of the most notable shelves are the DVD shelves lining one of the inner walls.  There are a ton of DVDs available to borrow (for the low, low price of $1), but what makes this branch special are their massive collection of foreign films and their Film Movement Collection.  For those of you who are curious, Film Movement is a company that provides a subscription service, offering one of the largest selections of award-winning independent and foreign films.  Chances are, if you're a cinephile, you will love perusing the DVD shelves of Kaimukī.
In addition to their DVD collection, I feel like Kaimukī Library has one of the better collection of Hawaiiana books.  They have eight long shelves dedicated to Hawaii & the Pacific, many of which contain older books that are no longer published.  The last time I was there, I was nearly tempted to grab every single 1940-ish book I could find.  If I didn't have so many books to read and wasn't in a rush, I would have loved to hang out in Kaimukī and browse through their impressive collection of books.
Talking to the branch manager, Kaimukī Library also has a large collection of reapportionment maps and government documents, for those who are into that sort of thing; both the Honolulu Advertiser and Star-Bulletin newspapers on microfilm dating back to 1929; and Morningstar, Value Line, and Polk City Directories.  They also have the largest collection of Putumayo Music CD's in the state library system, further providing evidence that Kaimukī Library is one of the most worldly of our public library branches.
The Programs
Kaimukī offers a Sunday Storytime every week for keiki to listen to stories and make crafts.  This year, Sunday Storytime will last through July 31st, every Sunday at 10:30am except for holidays.  They also offer the usual series of special events throughout the year.  You may want to check out the Friends of the Library of Hawaii website for more event information.
For National Library Week, Kaimukī Public Library will be hosting the Music and Dance of Bali program on Tuesday April 19, starting at 6:00 p.m.  Performers I. Made Widana and Anna Reynolds will demonstrate traditional Balinese music and dance. The ensemble includes gongs, bronze metallophone instruments of various sizes, double-headed drums, and flutes. This one-hour program is suitable for all ages.
The Challenges
When we spoke with Reference Librarian Jeffrey Eldredge on the challenges that currently face Kaimukī Library, one of the first things he mentioned was the need for more computers for Internet access.  We've noticed, surprisingly, that in many of the libraries we visit, the computer terminals with Internet access are some of the most populated places to be.  I guess Misty and I often take for granted that we all have Internet in our homes.  Speaking of which, another issue that Mr. Eldredge would like to implement is to have wi-fi access in the library.  Currently, only two public libraries have this capability (Salt Lake-Moanalua and Kāneʻohe), but it's a service that many of his library patrons often ask on a weekly basis.  Mr. Eldredge noted that Kaimukī Public Library is plugged in and "ready to go" if the opportunity should arise—with help from the Friends of Kaimukī Library, they've acquired enough furniture and set up laptop stations in the library to accommodate people with their own computers.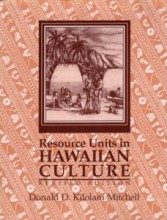 The Book Recommendation
The book that Reference Librarian Jeffrey Eldredge recommended the most was a non-fiction book entitled, Resource Units in Hawaiian Culture by Donald D. Kiolani Mitchell.  This is a book that was published by Kamehameha Press in 1992 which Mr. Eldredge says includes everything from Hawaiian culture from fishing, hunting, food, crops and games. It's the book that is recommended the most for use by children doing reports for school.  Jeffrey Eldredge is proud to admit that it's "one of [his] favorite books." 

[gn_divider]
We hope you enjoyed our foray to Kaimukī Public Library—a regional library which has some of the biggest collections in the State.  We want to thank Kaimukī Public Library and Jeffrey Eldredge for providing us the time and resources to let us talk about their great library branch.  They're not uploaded yet, but be sure to check out our Facebook page for more photos of Kaimukī Public Library!
Reference:
1. Balazs Szabo: Soaring Now, Aloha, April 1984.