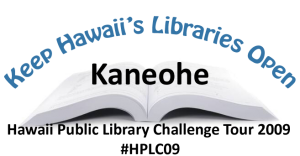 Libraries are often very busy on Saturdays and not all branches have the luxury of being open on a weekend, so we try to visit most locations during the week.  One of the challenges we have in our Library Tour is traveling by car from the Honolulu Airport area (where we both work full-time) to each of the different branches on the island.  We decided that it would be best to focus on the libraries that are farthest from us, first and it is with great pleasure that we conclude our tour of the Windward side with a visit to Kaneohe Public Library—the largest of the four Windward libraries on O'ahu.
Kaneohe Library is distinctively situated against a hill behind the Kaneohe Police Station.  The parking entrance isn't off the main road so it's easy to miss, but if you turn just before Benjamin Parker Elementary you'll see the library's driveway.  This being my first time at this branch, I had a little confusion at first on where to park as I initially stumbled into the police station.  For library patrons there is handicap parking located on the second level between the library and the station, but for the general public, the lot is found at the end of the driveway at the bottom of the hill where there are ample stalls!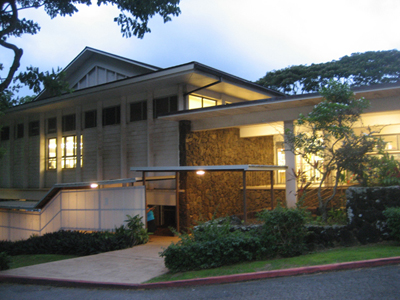 Building
The building is two stories and the structure itself is built right into the hillside. It looks like the houses built in the valleys, complete with red dirt and stilts, and already you get a feel for its personality. Immediately from the parking lot you will see the impressive space allocated for the Friends of Kaneohe Library book store.  It was reminiscent of the book store we saw at Kailua Public Library, however much larger–two big rooms full of books for sale!  Outside the door there were carts full of books that were free for the taking.  While I didn't see anything that piqued my interest, they had a nice selection of hardcover books available and overall the biggest selection of free books offered by any Friends of the Library Chapter.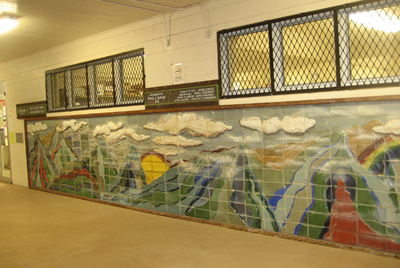 On the upper level lanai, just outside the main entrance, there is a lovely painted tile mural entitled "The Ko'olau Mountains" which was a gift by the Friends of the Library of Hawaii and Windward Community College.  The mural was designed by Paul L. Nash and was completed by a host of student artists in 1985.  Once inside you are treated to a very large lobby area with bulletin boards featuring community events, children's services, government news and other relevant neighborhood info.  But most interestingly we saw a special "Library Card Application" table, a designated space with pens and applications and all manner of brochures providing information on how to sign up and the benefits of participating in the library system. There's no doubt the staff at Kaneohe library are excited about getting people signed up and involved!
The library area itself is a wide open rectangular space, divided up primarily by bookshelves.  Immediately to the left is a nice Teen/Young Adult section that is enclosed by shelves full of YA and sci-fi/fantasy books.  In this small section alone there were a number of tables and chairs readily available for seating.  Aside from the usual manga, Kaneohe Library has a nice collection of graphic novels (yes, there's a difference), and I made use of this by borrowing a few of their comics during our visit.  For anyone interested, I finally read Brad Meltzer's Identity Crisis and thoroughly enjoyed its unique look at the DC superheroes.  In addition to the comics, they even had a small YA Hawaiiana fiction section (we like when Hawaiiana books get separated for more exposure), although some of the titles they included seemed to be reaching a bit as they either straddled more juvenile or adult pursuits.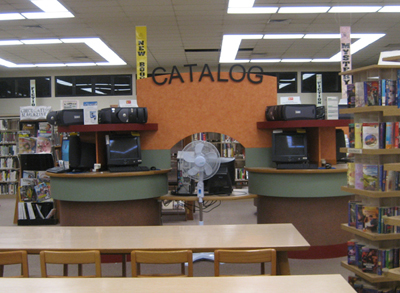 One of the most noticeable aspects inside the library is the furniture. It's very unique. The one that sticks out the most is the custom designed catalog station, which houses the computer terminals to access the online library catalog.  Some of the library's shelving and the reference desk is also customized to match. With sleek lines and a fairly modern design it adds a lot of interest and functionality to the space. Branch Manager, Thomas Churma, told us that the acquisition of the furniture had a lot to do with the "bang up business" done by the Friends of Library Kaneohe.  Not too long ago they added twelve more reading carols in the back of the library, providing patrons with a nice quiet area with extra privacy.  So naturally, Thomas made sure to shill the book store downstairs by mentioning that they have "the best prices on the island!"  And after seeing the immense collection of books they have for sale for such discounted prices, I would recommend anyone interested in books to check it out if you're in the Windward area.
Another noticeable trait is the sense of pride and history you feel for the Kaneohe community.  And the more we walked around and spoke with Thomas, the more this became a theme of Kaneohe Library.  Displayed atop the low book shelves as you enter are huge, black & white panoramic photographs of old Kaneohe.  Along the short reference shelves near the children's section a nice "Then & Now" display is featured, showing the contrast between old and modern Kaneohe.  They have an impressive Hawaiiana section which not only houses all of the new books, but also an intriguing collection of older, out-of-print books that are still in great condition. Hawaiiana books are notorious for having short publishing lives and the fact that Kaneohe Library takes great care in keeping out-of-print books available speaks highly of them. Thomas also told us that they have a lot of historical photographs of Kaneohe—in fact, they have four binders full of them, more than any other collection. If there's ever some extra money, one of Thomas' goals and a goal of the library is to digitize these photos as well as a few of the older Kaneohe history books.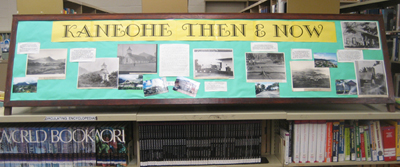 Programs
Kaneohe Library offers many of the traditional library services that others offer.  Like many of the libraries we have visited, the most popular of these services are the Internet stations.  Kaneohe has seven 'One-hour' Internet terminals for use along with one 15-minute express station.  In addition to the standard hard-wired Internet access, Kaneohe Library is one of two libraries in the State that offers free wi-fi access.  This modern amenity gives patrons the freedom to bring their own laptops and do online research from the comfort of their own computer.
One of the areas where Kaneohe shines in terms of programs is with the children.  They have a "First Wednesday" program at the beginning of every month which includes a preschool activity night with oogles n googles which is very popular, often bringing 50 to 75 people in attendance.  They want to encourage families with young children to spend quality time reading, playing and socializing together with performances that are interactive, imaginative, and lots of fun.  In addition to that, Kaneohe Library has two separate story time for toddlers (Thursdays) and preschool children (Tuesdays), providing different levels of fun and education to the keiki of Kaneohe. Thomas said they try their best to accomodate the interests of all their patrons, and having age appropriate storytime helps.
They also are trying to bring in more of the Young Adult crowd.  One of the previous events that was featured was a program that featured weaponry, from flint to firearms, with medieval armorer Greywolf.
Challenges & Conclusion
Like most libraries, the biggest challenge facing Kaneohe Library is budget.  Their budget has been cut by a third, which affects a number of things including staffing, programs, and acquisitions.  All in all, Thomas Churma is proud of Kaneohe and is appreciative of the community.  He says the people in Kaneohe are very relaxed but very supportive as evidenced by their studious Friends of the Kaneohe Library.  They are often in the top 5 or 10 branches in terms of circulation per month and provide the region with a strong Hawaiian and summer reading collection.  Since the early 1960's they've been serving the residents of Kaneohe well… and they have the pictures to prove it! 🙂
The library staff, starting with their management, has a clear devotion for not only sharing the history of the community, but also trying to preserve it.  This is apparent in their book collection, their choice of decor, and the goals they set for themselves.  This is not to say that they are stuck in the past, as they are one of the few libraries to maintain a branch website, incorporate wi-fi, and seek to digitize their local history.  What they provide to Kaneohe is immeasurable in its value.  You can quantify things such as five Internet terminals, or the largest DVD collection, but having a dedicated staff that uses their resources to best preserve the community's history is a wonderful asset.  The Windward community should continue to support this branch by attending programs, circulating books, CDs and DVDs, and perusing the shelves of the vast Friends of the Library book store.  Don't forget, they are one of only three libraries to be open on a Sunday!!
"The library is a community center.  It should provide students with a relaxed extension of the classroom.  That's the way a library should be," concludes Branch Manager Thomas Churma on our trip to Kaneohe Library.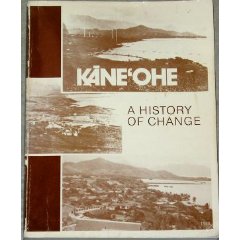 Book Recommendation
Keeping in line with the appreciation for Kaneohe's rich history, Thomas Churma recommended that we read Kaneohe: A History of Change; a book published by Bess Press with information compiled by the U.S. Army Corp of Engineers.  We love the idea of finding books in a branch that are specific to the area and I look forward to reading about it and sharing it with you.  It is one of Thomas' goals to digitize this book especially and make it available to everyone.  Currently they do not have all of the permissions, nor the budgetary resources to accomplish this feat, but hopefully someday they will be able realize this ambition.
I want to thank Kaneohe Library and Branch Manager Thomas Churma for taking the time to talk with us about the library and supply us with such informative things to share.  To celebrate, Misty and I drove down to Windward Mall and had some delectable grinds at Hot Dog on a Stick.  Hey… it's the only one on the island, we HAD to go.