posted by M.L. Sanico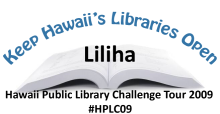 I think one of the first things we started realizing about the Hawaii State Public Library System (the only statewide public library system in the United States) is that its greatest resources are its employees. We've met wonderful people who enjoy their jobs and care about their communities—librarians and aids who take a lot of pride in what they do.  One of the library system's undeniable treasures happens to work at the Liliha Public Library.
When we call the branches ahead of time to ask a librarian or manager if it's okay to come by and take pictures, most of them answer with their first names such as "Hi this is Holly". But not Ms. Mitchell. No, Ms. Mitchell answers the phone with her formal title "This is Ms. Mitchell". I knew right then that we were gonna learn a great deal at Liliha Public Library. When we arrived and actually met her, the very first thing she said was "I have to tell you, I haven't read your blog, and I probably never will …because I'm XX years old and am not much for computers outside of work."
Her honesty was both humbling and refreshing. They certainly don't make librarians like Ms. Mitchell anymore—she's been a librarian for 33 years and still going strong! Needless to say, Alex and I were on our BEST behavior through the entire visit, and we DID learn a lot. Check it out.
The Building
One of the first unique things about this library is that the majority of parking is located on the roof. We've been to a few libraries where parking is under the library, but none with lots on the roof! They do have handicap and 15 minute book drop parking out front on the ground level, but it's quite interesting parking up top and you get a nice view of the valley. "In this urban situation land is scarce so they put parking on the roof," Ms. Mitchell explained. "This is a good location. Lots of people visit." A few years ago there were plans to make the library larger with more floors for community use but it wasn't viable because of the "adobe soil" the building is founded on.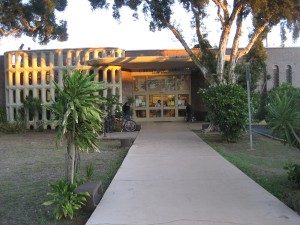 Like the Aiea Library, Liliha was also designed by a student of Frank Lloyd Wright. All the corners are rounded and there seems to be an oval theme to the otherwise squarish building. Ms. Mitchell is quite proud of the building and had even suggested they build the Waipahu library the same way back in 1994 saying "I have the blueprints for the perfect library design". She explained that "nobody builds rounded corners on buildings anymore because it costs too much!".
The lobby area at Liliha Public Library was recently re-tiled and the floor looks wonderful as you walk in.  There are bulletin boards on all sides filled to the brim with community announcements, event calendars, pictures of local boy scout troops planting hibiscus trees, and posters about saving the environment.  You name it, if it's happening in the community then there's something proudly displayed there in the "Know Your Community" exhibit. There's even a whole display about the Hawaiian Chiefess Liliha, whom the area was named for, and how she stood up against religious persecution and fought for freedom of religion for Native Hawaiians.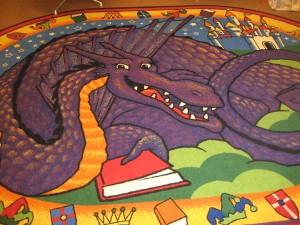 Just off the lobby, there are dragon murals painted in each bathroom, and in fact there are dragons all over the library because the dragon is Liliha's official mascot! As soon as you enter the main room, the children's section is immediately to your left and there's tons of floor space for the kids to spread out on the colorful, you guessed it, … dragon rug!
Sadly one of Liliha library's biggest and constant challenges is dealing with the effects of vandalism. At one time, people kept starting fires in the book drop and it became so frequent that it was a continuous threat to the entire collection, and building. Ms. Mitchell said, "I don't know if you noticed, but we had to have a special room built to house the book drop". For safety reasons, the book drop is closed during library hours but the special air tight room was built to protect the rest of the books within the library during off hours. Most recently in September, a break-in left damages to several doors and other equipment that had to be repaired with monies that could have gone to purchase new books and materials. (This just makes us so sad here at HBB! Shame on you, whoever you are, for starting fires and burning books!!)
Programs and Unique Traits
In addition to Toddler Story Time, Liliha Library reserves an area of the library for teens called "Teen Lounge" on Wednesday from 3–4:30. The space and time is for middle and high school students ONLY so they can study and do homework without interference. Ms. Mitchell told us that it's been interesting for her to watch as libraries evolve over the years. In the old days there was no such thing as a "Young Adult" librarian, but the need for one is greater because the genre has grown exponentially to become one of the most popular. Liliha is fortunate to have a YA Librarian and they all work hard to get teens to visit. "It's a tough age", Ms. Mitchell says but the YA Librarian is devoted to reaching out and has started a blog called Liliha Teens. She writes about YA Literature, community and library events, issues that important to teens. There's fun polls, photos, book lists, anime news and useful links/info for help on homework, college and how the library can help. It's a fabulous resource and we hope the beginning of a trend for other libraries to follow.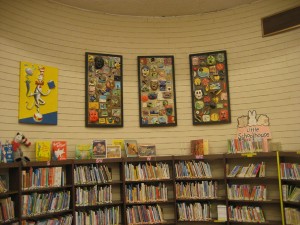 When we asked Ms. Mitchell about any other special programs they have she waved me off and said "Bah! Don't ask me about programs! You spend all this time and money to do a program and only 2 people come! I'd rather focus on the books." And although Ms. Mitchell does emphasize the importance of books, she only jokes half-heartedly about not caring for programs. If anything, she wishes they could have more, so that more people would come. "Having a variety of programs is hard when you're understaffed" she said as she led us to the very back of the children's section to show us the art on the walls. She recalled for us a time back in the 60's when there was more money for librarians to do crafts and art programs regularly, like the hand made plaster tiles that make up the murals. "It's too bad we can't do many things like that nowadays, it's fun to hear people come in as adults and say 'I made that when I was a kid!'. Back then the libraries were like the first A+ afterschool programs. " she commented nostalgically.
Ms. Mitchell and the staff at Liliha put a lot of energy into their collection and into organizing and presenting the materials so that people can easily locate things and find similar items that they might be interested in. Everything is separated for easy finding, the librarians are constantly pulling books for display and allocating bins and shelves for various kinds of books and series. Ms. Mitchell has a whole table of selected books that she pulls each month relevent to current events or holidays. The children's section is meticulously organized and divided up so that it's easy to find books of various reading levels. In fact, this is the most organized library we have ever been to! Ms. Mitchell believes that anywhere in the library "you should be able to look where to go and not have to ask for directions." Accessibility is what it's all about, and they're very dedicated to making sure the community and other libraries have access to their books. Ms. Mitchell would even like to expand, and do more outreach to provide reading materials  to the many small pre-schools in the community.
Liliha Library's most distinctive trait is that it holds the state's largest collection of Chinese foreign language books. There are many Chinese immigrants in the community and through patron donations and a lot of hard work they were able to purchase volumes of books in Mandarin and Cantonese and even have magazine and periodical subscriptions for use in the library. All of their Chinese materials have high circulation and so Liliha is one of the only libraries to have a staff member dedicated to maintaining the Chinese collection and translating things for the community. Another unique part of the collection is that they put their encyclopedias and a large portion of their reference section in circulation. They also have an impressive Hawaiiana collection with a whole shelf dedicated to biographies, and another whole shelf with Hawaiian language readers. Ms. Mitchell said that unfortunately, the Hawaiiana books don't get as much circulation and that people "should pay [more] attention to it" (we agree).
Meeting Ms. Mitchell and the staff at Liliha Public Library was an absolute joy and we'd like to thank them for their time. They're all very proud of their library (and it shows in every aspect), enthusiastic about sharing books, and excited about serving the community. It's nice to know that there's someone like Ms. Mitchell still working in the system. Her experience and insight will be  an asset to everyone she helps. "We've [HSPLS] been through tough financial times before. It'll get better." And we believe that it will, if for no other reason than because Ms. Mitchell said so.
Ms. Mitchell's Hawaiiana Recommendation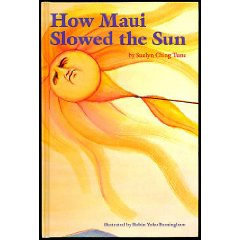 Ms. Mitchell was very excited to share with us her Hawaiiana book recommendation and picked How Maui Slowed the Sun by Suelyn Ching Tune. It's a picturebook based on the legend of how Maui slowed the sun to help his mother dry tapa. Ms. Mitchell said it's a great book for kids and lots of fun to read with interesting pictures of Maui roping the sun. But because Ms. Mitchell doesn't do anything by half, she also handed me the original version of the legend in Tales of the Menehune compiled by Mary Kawena Pukui… she says, it's so I can read them both and compare them in my review. You can't really argue with that logic so I left Liliha library with a smile and some serious homework to do ala Ms. Mitchell. And then Alex and I went to Liliha Bakery for some "breakfast for dinner". It was awesome.