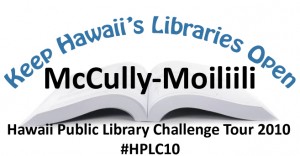 Earlier this week we mentioned that McCully-Moiliili Library will be hosting a mini-con (miniature Comic-Con) this weekend. If you haven't seen the announcement, click here for more details. We thought we'd take this opportunity to catch up on our Library Tour and write-up a little something about this unique branch.
The Building
McCully-Moiliili is one of the oldest (41 years old this November) libraries in the HSPLS. Situated off of the perpetually busy South King Street, this branch was the first public library to have two stories and  is one of only two libraries that have covered parking.  Alex and I remarked at how McCully-Moiliili Public Library is fortunate to have the parking space that they do considering how very little of it there is to spare in the area, but Branch Manager Hillary Chang said that they've "nearly outgrown the lot" and find it to be a daily challenge, especially between the peak hours of 3 and 5 pm when they have the most traffic.  They do have "30 minute" parking stalls which is something you don't see at every branch but understandable considering this library's patronage.
As you walk into lobby the first thing you see are the usuals:  shelves with gently used books for sale sponsored by the Friends of the Library and community bulletin boards with posters and announcements for events . The entire first floor is dedicated to circulation and children's books. It's a fairly large area with a recessed floor space where the kids can spread out with books, puzzles or stuffed animals. It's a carpeted play-pit that's great for story-time because they can sit on the steps to listen. There are bears in hot air balloons  hanging from the ceiling that look adorable off of the  sky blue-painted walls and colorful round tables that beg to be sat upon. We particularly liked the way the books were organized, it's very detailed, not just by age but by grade level and interest.
Immediately up the stairs or out from the elevator you see the research desk and internet terminals. They have a fair number of computers set up for internet use, but given the amount of people that come into this particular library, there's usually a bit of queue. Magazines, DVD's and CD's are on the left side with adult non-fiction and fiction on the right. There's also a sizeable Young Adult section to the rear of the second floor, separate from the boisterous keiki room so they can study or host programs without being bothered.
Special Programs

With the success of the keiki storytime  program (see the play-pit with great acoustics to the left) the McCully-Moiliili library staff wanted to do something special for neighborhood teens, an age group many librarians have told us are less likely to visit. McCully-Moiliili was one of the first to experiment with gaming night and other multi-media programs to engage teens. Games where they could compete and learn like "Guitar Hero or Dance Dance Revolution which the kids really enjoy" said Chang.
She also makes great efforts to host local author visits and feels it's beneficial for teens and patrons to meet authors and listen to them speak about their books and about writing. Hosting people such as Dean James, Kelly Armstrong and Audra Furuichi, the creator of the popular Nemu*Nemu manga, Chang has had great success with her "Meet the author" programs even though "sometimes it's hard because the authors are shy to speak".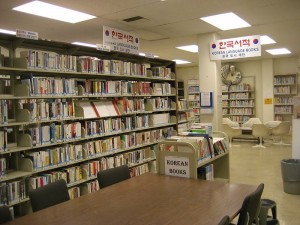 Unique Collection
McCully library has one of the largest collections of Korean Dramas in DVD because they're so popular with the neighborhood patrons. But it's not just K-Drama and Korean language films, McCully has the largest selection of Korean language books as a result of funding from the Korean Library Foundation (the same way Liliha has the largest collection of Chinese language books). Getting the books wasn't their biggest challenge, but cataloging them was. In the Korean language there's no standard for Korean to English spelling which made searching for books difficult for patrons.  Hiring a Korean Language technician to catalog the books in every spelling that may be used has helped greatly and now the collection is very popular and widely used.
Another interesting aspect of McCully-Moiliili Library is the size and breadth of its graphic novel collection. Chang said she believes that graphic novels can be entertaining and educational for people of all ages, not just teens and young adults. It's a publishing/media platform that's been growing in popularity and Chang has been trying to build up a collection suitable for older audiences, so she "interfiles" them with the regular adult fiction.
With this local library's belief and support of multimedia books like graphic novels, it's no wonder they're hosting a mini comic-con this weekend!
Challenges
When we asked about any challenges this location has to deal with Chang chuckled and said that budget constraints make it difficult to buy the latest books and they constantly try to "purchase responsibly—the 'new books' section is a bit empty but everyone is optimistic!". She went on to say "what's really unfortunate has been the rise in homeless encampments in the area. This is not a bad location and they never bother anyone, but it's still an added challenge".  Another challenge, that made me a bit sad, was the occasional theft of materials, specifically their graphic novel collection.  To combat this, Hillary cut holes in the cover to help deter would-be criminals from taking an obvious library copy home, and she says that the strategy has been working so far.
Conclusion
McCully-Moiliili Public Library is an important piece of the Hawaii State Library System due to their central location off of S. King Street, large collection of Korean materials, and the energy and passion of Hillary Chang's devotion to young adult content.  We want to thank Hillary Chang for taking the time to sit with us and talk about her library branch and all of the staff for their patience with us.  Mahalo nui loa!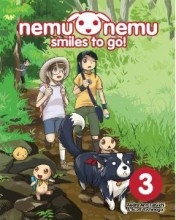 Book Recommendation
Given Hillary Chang's love of anime and manga as evidenced by her participation in events such as Kawaii Con and organizing Mini-Con, it only made sense that she recommended as her book choice a comic creation by local Hawaii artists.  Audra Furuichi (who will be in attendance at Mini Con) and Scott Yoshinaga created the successful webcomic nemu*nemu, which happens to be a favorite at Hawaii Book Blog.  These comics are regularly compiled into soft-cover books with additional features to incentivize their purchase.  Being a big fan of the series herself, Hillary not only recommended but walked us over to the section to excitedly give us the books herself.  In fact, because of her strong support for these arts, Hillary Chang was even mentioned in nemu*nemu volume 3 in the closing thanks.  The versions we had the pleasure to read were nemu*nemu volume 1 and volume 3.  Look for a review of these books in the near future at Hawaii Book Blog!
Mahalo—and don't forget to attend Mini Con tomorrow, Saturday October 23 from 10am to 1pm!