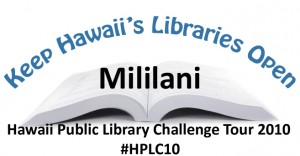 This week, the Mililani Public Library is celebrating 26 years of service! In recognition of this we thought we'd catch up on our Library Tour posts and send something out about their branch. There will be all kinds of festivities going on throughout the week so if you find yourself in the area stop by and wish them a happy birthday! Check here for a schedule of events and more information.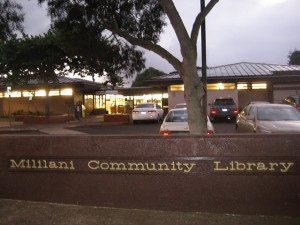 The Building
Built in 1984, the Mililani Public Library has been an important cornerstone to this growing suburban community. Situated across from Mililani High School and the Town Center, its location is easy to find and convenient. Parking is somewhat limited for a branch of this size, especially on Mondays which is one of their busiest days.  One of the most characteristic elements of this library are the stone carved murals on the left face of the building and right before the entrance. The building was designed to incorporate the outdoors inside and there's lots of corner windows as well as a center atrium to let in natural light. The mix of stone and glass in this spacious one-story library is very unique. The red mortar and low, slanted roof makes it look like the building popped right out of one of the red hills.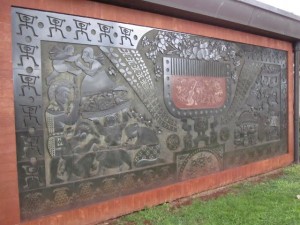 As you walk in through the sliding doors there's a hall way leading to the bathrooms and the silent reading room where the foreign language books and newspapers and magazines are kept. "The room is very popular and it's nice for the older kids to have a quiet place to study… one patron uses the quiet room specifically to do her bills because it forces her to focus", said acting Branch Manager Wendi Woodstrup as she gave us the tour.
Directly in front is the circulation desk and across from it catalog terminals, copy machines, community event boards and Friends of the Library books for sale.  The keiki section takes up the majority of the right half of the space with adorable kiddy study cubbies along the wall, ample floor space for story time, and puzzles.
Across the center area you can't help but gaze outside at the atrium and notice all the indigenous Hawaiian plants. Just off the atrium are the internet terminals and Hawaiiana section.  We particularly liked how the Hawaiiana sections had plastic signs/markers sticking out from the stacks by subject so that you could quickly find "cookbooks" or "crafts".  Next to the Hawaiiana shelf there are numerous study tables, a colorful bench in front of the manga section for teens, and the rest of non-fiction is organized on shelves positioned diagonally to maximize both space and flow; it's a lot easier to browse the stacks by subject.
Programs and Challenges

Unfortunately, aside from story time and the occasional author event, it's a challenge for the Mililani Library to offer other programs because they are so understaffed. Open six days a week and two nights, Mililani is a branch with one of the most operating hours to meet the needs of such a large community.
What is genuinely special about this branch is the way patrons are prioritized and space is allocated for everyone. They've clearly used the building to their advantage. The teens have their own space and a whole shelf dedicated to pamphlets and materials, not just on applying for college but paying for it as well—info on where to sign up for entrance exams or certifications and all manner of useful applications for them to take home and fill out, not just books.  The same goes for military families or voters… this branch really goes out of its way to make materials available with pamphlet stations and information on almost every shelf. Wendi said they try hard to be proactive, they know that they're short-handed and often people have to wait to be helped, "It's hard to get to people in a timely manner…but we want to make things as easy as possible to find".
Because of its location and the centrality of Mililani in general, this branch has high traffic with a lot of people coming in daily, especially students and families. "It's a very young community and they really value this library", Wendi explained.
Book Recommendation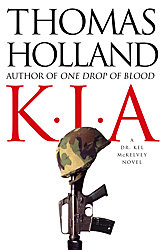 Thank you to Wendi and the staff at Mililani for taking the time to show us around and share a little bit about what they do.  Wendi's book recommendation for us is a book by a local author and Mililani resident. KIA by Thomas Holland, who was the scientific director of the Department of Defense's central identification laboratory here in Hawaii, is supposed to be a thrilling ride. Hopefully we'll be able to read and review it for you soon!
For more information about the Mililani Public Library or any of the other branches on our tour, please visit the HSPLS website.