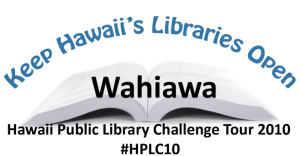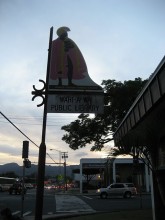 Wahiawa is an interesting place, a small cross-roads community tucked between Mililani and North Shore, and neighboring one of the largest US Army Installations  in the West. It's kind of a two-street-town with the majority of its stores and eateries off of California Road. They look like they've been there forever. I'll have to admit, Alex and I don't spend much time there but we were happy to visit the library and get to know the area a bit.
The Building
My dad always used to tell me that "dynamite comes in small packages". Wahiawa Public Library may look a bit small on the outside but it's music collection and selection of popular fiction is nothing to scoff at. I think the library matches the town perfectly and acting Branch Manager Anthony Hooper would agree.  We met him at the children's reference desk and asked about the library's history.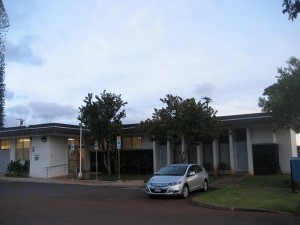 The current building has been in place since about 1965. Prior to that, the community library was located up the street and shared quarters with the Department of Education. The lot the library is on now was once a hotel and then later a school site. It's been renovated several times and unfortunately is still the same size. Budget only ever allowed for refurbishments and not additional square footage despite the population growth. Mostly for things like replacing windows, retrofitting the lights and repairing damages due to vandalism and break-ins.
Coming into the library from the parking lot you walk through a long hallway with bulletin boards littered with posters and announcements for Wahiawa events and library news. There was a big section of the board dedicated to job announcements and career opportunities which we were glad to see available.  The hallway opens up into the main room and you can see the front (street) entrance where the Friends of the Library have set up an area for their ongoing mini booksale.
The keiki section takes up about half of the overall space and tall blue bookshelves cover the walls. It's neat and organized–packed with books, definitely making use of all available space. I was drawn to their sizeable fairytale collection, one of the biggest I've seen outside the State Library. There's carpet space for the kids but unfortunately not a lot of tables or seating areas.
On the other side of the circulation desk is the adult fiction, nonfiction and reference areas. We were surprised to find that their Hawaiiana collection is pretty big despite the obvious space restrictions. What we enjoyed most about that side of the library were the large print, black and white photographs of old Wahiawa that are displayed all around. Looking up at the pictures you can't help but notice the security screens on all the windows. "It looks like a jailhouse" Hooper joked, but  said sadly that break-in attempts are a consistent problem they've had to deal with.
Programs and Services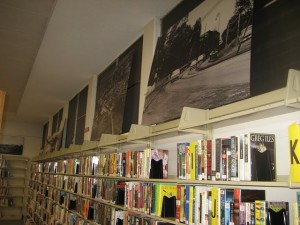 They do offer a keiki and toddler storytime, but it's revolving so you should call ahead to verify times and dates. They also offer a lot of adult programs like travel planning, life insurance and medicare seminars etc. It's difficult to have programs in such a small space; there's no where to really interact but they do their best. At the moment they don't offer too much in the way of youth or teen programs and that is something Hooper would like to change. This year he'd like to work on getting more teens to hang out at the library. He said he'd like to "meet the needs of more teens and think outside the box to get them in. As a librarian you have to constantly work to make yourself relevant and approachable".
Hooper says that with limited budget comes limited staff and much like other small libraries the staff has to be very flexible in their duties, often wearing multiple hats. That being the case, they still manage to keep all the basic services running here.
Challenges
"Every library is different, unique to the community's interests.  The Wahiawa community is very diverse. There's military, retired, [immigrants] and locals. We try our hardest to find materials to suit some of everyone's needs. Not all of them but at least some". One of the areas they've found this most challenging is with their music and DVD's. They end up buying a little bit of everything. Given the amount of shelf space they try very hard to focus on keeping the popular titles and bringing in new books. Hooper says he often asks patrons "what do you want that we don't already have?" because it helps him stay in tune with the needs of the community so that they'll have a place to go when they want relevant information or the latest fiction phenomenon.
The cost of materials is rising and that makes it harder to provide a little something for everybody. Hooper encourages people to donate to their libraries. It doesn't have to be a monetary donation, for example, the Wahiawa library is in dire need of CD jewel cases and DVD cases that are in good, clean condition to help hold and organize their popular and extensive media collections. Or you can support the Friends of the Library by purchasing used books. "Our Friends of the Library has been very helpful with raising money".
Regardless of budget issues and space restrictions, the dedicated staff at Wahiawa Library seem to manage well enough. They are active in the community and persistent in maintaining the same hours and services for their patrons. So much so, that even unfortunate set-backs such as vandalism (shame on you, perpetrators) only serve to motivate them more.
Reading Recommendation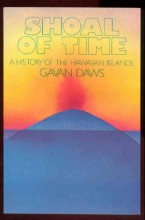 We like Anthony Hooper because he has an obvious desire to spread local literature. He was very excited about recommending a Hawaiiana book and we talked about several titles/authors from Lee Tonouchi to Gavan Daws (whom he knows personally). So for this reading rec we chose to do Shoal of Time by Gavan Daws. I had picked it up and skimmed through it once before, but now I have a good excuse to read it and will post a review in the future!
Thank you so much to Anthony Hooper and the staff at Wahiawa Public Library for speaking with us. I think the Wahiawa Library is charming and like Goldilocks said, "not too big, not too small, but just right!" because indeed it is.