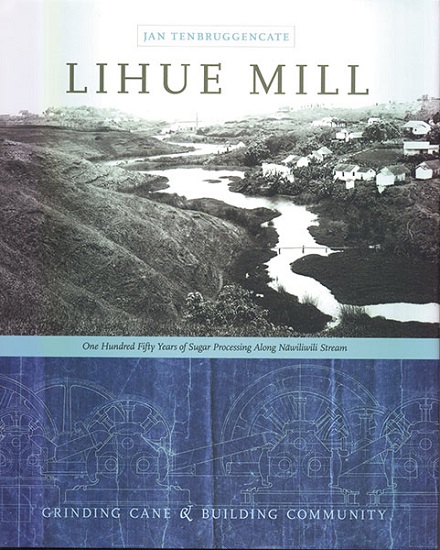 Regardless of the long-term social and environmental impacts of the sugar industry in Hawaiʻi, there is no argument that sugar production played an important role in shaping the culture and communities of our island home. This is evident in the one hundred fifty years of sugar processing along Nāwiliwili Stream that formed and shaped Līhuʻe into the thriving city and county seat that it is today. Kauaʻi journalist Jan Tenbruggencate brings this history to light in Lihue Mill: One Hundred Fifty Years of Sugar Processing Along Nāwiliwili Stream, a book cataloging the lifespan of the mill through an abundance of photographs, a distinct history, and narratives from former employees.
Unlike many of the major towns in the state, Līhuʻe was not built around a bustling harbor, as the town is located inland, along a stream between two plateaus. Lihue Mill recounts the story of sugar in Hawaiʻi, focusing on the birth and growth of the mill in Kauaʻi and its influence on the town's growth from sparsely populated woodlands into a bustling economic town. Tenbruggencate's history of the mill is both detailed and precise, providing an expert insight into the history of the sugar industry and most notably its production, detailing sugar producing innovations, early adoption of technologies, and the development of fuel sources contributing to Lihue Mill being one of the most advanced sugar processing facilities in Hawaiʻi.
This narrative provides an informative backdrop for the centerpiece of the book: its extensive collection of archival photographs. Beautifully constructed, Lihue Mill is fully deserving of the Honorable Mention it received in Excellence in Design at the 2012 Ka Palapala Pookela Awards. Photos spanning from 1865 to the present visually recount the humble beginnings of the mill and its surrounding community, and the industrious growth as both the mill grew in size and the town surrounding it grew in importance as a direct result.
Punctuating this collection of historical photographs and reporting are ten oral history interviews with former Lihue Mill employees, written as narratives, providing a much needed injection of the human element to the book. After all, the stories of the people who worked at Lihue Mill are an integral piece in the history and community of Kauaʻi, and thanks to Lihue Mill, their stories and this history will not be lost with the mill's closing.
[gn_divider /]
Lihue Mill: One Hundred Fifty Years of Sugar Processing Along Nāwiliwili Stream
Jan Tenbruggencate
Pahio Development & Lihue MS, 2011
Hardcover, 116 pages
ASIN: B00HBL8S96