Whew! March was a busy month for us and this last week there seemed to be a void in motivation on my part. But it's only the 31st so it's not quite over yet and I have one more day to squeeze in a post! March is (was) arts and crafts month and aside from cookbooks, craft books are probably the second most popularly produced by local publisher's and authors. From quilting and clay art to origami and lei making, Hawaii has it's own unique blend of art & craft culture.
There are quite a bit of Hawaiian quilt books out there to explore, but I know very little of sewing or quilting and feel inadequate as a reviewer for those. I'll have to enlist some help from the ohana on those later. There are dozens of books about lei making, and it seems a new one pops up every year around graduation time. I could do a whole post comparing the different lei making books that are out there–some of them seem deceptively simple–but I think I'll save that for a post in May *wink wink*.  Instead, here are the highlights on a couple of distinctive craft/hobby titles available  now.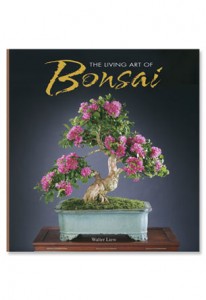 Island Heritage publishes most of the local books on clay crafting, and origami moneyfolds (two books which we reviewed here) but one of their more interesting and unique hobby books is The Living Art of Bonsai by Walter Liew. Although commonly associated with the Japanese, bonsai is an art form that originated in China. Liew is a native of China who lives and teaches the art of bonsai here on Oahu at the Hawaii Bonsai Cultural Center. He includes in his book the history and cultural significance of bonsai and step-by-step guides on creating and maintaining your own tree. Tips, information and suggestions on everything from choosing the right bases, tools, and trees to techniques on shaping and training. As far as bonsai books go, this is one of the only ones still in print produced by a Hawaii author and published locally. In fact, many of his suggestions are typical of a bonsai master who has adapted techniques to best suit a tropical climate. That really sets this bonsai book apart from all others, especially if you're here in Hawaii and would like to try your hand at it. I'm a beginner (and of no botanical talent) so I appreciated all the extra features in the book–the illustrations, examples and recommended resources. The pictures are gorgeous and you can really see the skill and artistry involved! Large, full color pictures make this book a good candidate for the coffee table as well as the craft table.  Check out this review by a local bonsai enthusiast or the Hawaii Bonsai Association's webpage for info and events.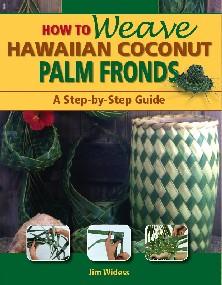 My parents matriculated in the 70's and so as a child my house was full of things like hanging macrame plant holders and sand candles.  They still have a few of those kitchy paperback craft guides that are now LONG out of print and this next book reminded me of those,  so I just had to include it! How to Weave Hawaiian Coconut Palm Fronds (Mutual Publishing) by Jim Widess is one of the most useful craft books I've ever seen. It has 11 projects from hats and mats to baskets and fans, PLUS pouches! The instructions and photos are easy to follow and there's advice on the best fronds to collect and use… talk about cheap thrills, the supplies are in your back yard! Some of the projects are small and ornamental, easy for the keiki. This is a book I recommend for a nice summer activity with the kids! I love this book… and next year I'll have something functional to make at church on Palm Sunday.
Finally, there's a book that was just released by Contemporary Publications called Contemporary Hawai'i Woodworkers capturing the art of 36 of Hawaii's best wood crafters.  This seems like it would be an excellent book to read for celebrating arts & crafts in Hawaii. I haven't had a chance to look at it yet, but it's gotten some great reviews and I hope to have the chance to feature it in a post soon… so look out for that!