Story time has just begun and it's my turn to blog a book review! I just finished singing "If You're Happy and You Know It" with some First Book-Oahu volunteers, in front of about 30 kids! They're all so adorable and happy. If you haven't been to one of First Book-Oahu's book fairs then you're really missing out. Songs, crafts, prizes and books–how can you go wrong?
This next book in our Rec-Fest was suggested to us by Isabel of Salt Lake… thanks for reading and supporting HBB Isabel.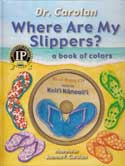 Where Are My Slippers?: A Book of Colors by Dr. Carolan is published by Banana Patch Press an small company based in Kaua'i, that has recently been named an Independent Publisher's Award Finalist. In fact, this publisher has garnered lots of national recognition and various awards with their excellent books. They are most recently known for the children's book about President Obama, A President from Hawaii which we reviewed earlier here.  They also won a National Book Award for Goodnight Hawaiian Moon. All three of these books are authored by Dr. Carolan and come with audio CD's with music contributions by some of Hawai'i's most popular artists. A portion of the profits at Banana Patch Press goes to support reading and literacy in Hawaii and they do lots of author events!
Where Are My Slippers? is mainly a book about colors. Told from the first person point of view of a child who lost their slippers at the zoo, it's easy to put yourself in their shoes (or lack there of!). And really who hasn't gone to a party or the beach and misplaced their slippers? Kids and adults can both certainly relate!
There's a rhyming scheme throughout the book as you explore the zoo looking for your lost blue slippers. You meet the flamingo who only wears pink and see her pink slippers on her feet. I laughed out loud when I saw the elephant with four gray slippers and the giraffe with bows on her purple ones. And laughed again when the kangaroo had long brown slippers…
"A brown kangaroo hopped by.
I thought I would give her a try.
But her slippers were big and brown.
If they were mine, I'd look like a clown"
This is a fun little book and a great way to learn colors, the rhyming is creative and playful with a good mix of everyday and advanced words to encourage vocabulary. The only time the rhyming becomes awkward is when the rhyming scheme changes toward the end to allot for an extra line but otherwise it flows very nicely and combined with the CD featuring Keli'i Kaneali'i, is fantastically entertaining. The illustrations are vibrant and take up the entire page. There's no white space at all so you're really immersed in each color and there's plenty of details and extra things to explore in each picture.
Slippers are such an iconic part of our culture here in the islands–and no one else in the world calls them "slippers". This is a great little book about colors and slippers and animals, you should definitely check it out! Perfect for kids just learning to recognize colors and words… there's also a song on the CD with lyrics in the back for learning the colors in Hawaiian! Fun fun fun!