So many books, so little time! It's dangerous here for me and Alex, we could literally blow our entire months paycheck on books!
This next review is on another award winning book. Although not from a Hawai'i author or publisher, it did come highly recommended by one of our island's best literary professionals and book experts, Alison Ipo Tonaki. She says this is a neat book with amazing illustrations to share with your keiki. Thanks for your suggestion Ipo!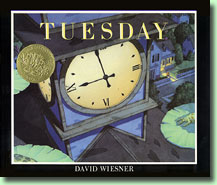 Tuesday (Houghton Mifflin, 1991) by David Wiesner has won numerous awards since it's release, including The Caldecott Medal. The extraordinary thing about the book is that there are only four lines of text! The entire story is told through the illustrations. It's actually a bit magical, taking place mostly at night as frogs take to the sky on flying lily pads. They go on an adventure through the town flying through laundry lines and chasing dogs. The facial expressions on the frogs are hilarious! It's fun to look at each one and imagine what he might be thinking. This is almost like a 'choose your own adventure' story in picture book form. Essentially you and your child are creating the story based on your reactions to what's going on in the pictures.
The pictures are detailed and realistic, yet still whimsical and fun. Soft colors of blues, greens and grays are generously used to depict this spectacular nighttime tale. The magic starts at sundown and lasts until sunrise when the frogs return to their pond. But they leave their lilypads in the streets and yards as a testament to their mysterious flight. It's a little surreal but I can see how it would be great, wondrous fun for kids! Check it out!
Here's a link to a site that suggests a lesson plan and learning activities you can do with your kids in tandem to reading the story!
By the way, all of these books can be found online at www.barnesandnoble.com and in your local B&N store.