Happy Lei Day! *kiss kiss* Alex and I will definitely check out the festivities going on all weekend at Kapiolani Park (hopefully it doesn't rain!) but first we've got a busy Saturday of attending book signings. You should check one out too!
I've found, over the last week, that there are MANY instructional books available on lei making, some traditional and others with creative and imaginative use of materials or technique. I'm still saving these for a special post later this month, but really I don't know if I can get my hands on them all, there's so many! For today's May Day post I wanted to focus on two books I found that were unique in the subject and art of lei.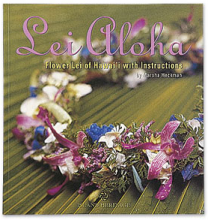 Lei Aloha (Island Heritage, 2001) by Marsha Heckman is not only a perfect book for lei making, it's ideal for learning more about May Day and how lei are an expression of our culture and identity. Marsha is a renowned floral designer, lecturer and author who's designed countless weddings and written several books on bouquets and flower design. In Lei Aloha she really goes above and beyond simply showing and telling how to make leis.
The book starts with a short chapter on the specific lei of each island seen primarily during Aloha Week via Pa'u Riders or in May Day Court ceremonies. Then she interviews lei artists who specialize in specific lei like Marina Pascua who is known for her original stephanotis designs.  Marsha talks about lei from Old Hawaii to styles worn in the 19th century up to modern lei. Throughout the book are photos of people making and wearing lei and short paragraphs on their significance to May Day or other cultural events. You really get a sense of how we interact with lei and how important it is in our celebrations.  She includes history of pikake and Princess Ka'iulani and even a great section on Honolulu Lei Sellers that anyone who has ever rushed to the airport or Chinatown to buy a lei will appreciate.
I love the beautiful pictures and all the little informational details, for instance, did you know that the red ginger came to Hawai'i by way of Malaysia? It's just a delightful book and I'm amazed at all the information that's there. If you're looking for a book with straight-up lei making directions, this is NOT the book for you. If you're looking to experience lei making… this is definitely the book for you.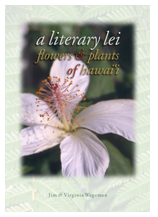 Although it has gorgeous pictures of native plants and flowers, A Literary Lei : Flowers and Plants of Hawaii (Watermark, 2004) isn't really a book about lei. Instead, authors Jim and Virginia Wageman have strung together an amazing virtual lei. For each flower or plant there's a gorgeous color picture, a short historic or botanical fact and then a quote from some form of Hawaiian literature (chants, music, legends, local poems or books) that features or describes that flower. It's quite genius and if you're a fan of local literature you'll really appreciate this creative twist. For example, there's a two page spread of vibrant violet bougainvillea, a tidbit about it being named after an 18th Century navigator and then a quote from "Shadow Figures", a poem by Cathy Song where she describes a wall her father built  where the bougainvillea  is "…extravagant with age, spilling a waterfall of blossoms…" (there's more of the poem in the book ).
I love everything about this book—pictures, flower facts and most of all literary quotes about each one or something somehow pertaining to it. When Alex and I think about how much work went into finding and compiling this information it overwhelms us. Obviously a labor of love, A Literary Lei is just inspirational and makes you happy to be living in such a wonderful place like Hawaii. It's really the best of both worlds, and now it's on sale, over half off via Watermark's website!