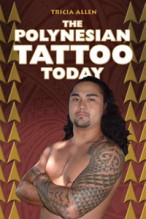 HONOLULU—The Polynesian Tattoo Today is a compilation of over 200 detailed images of the beautiful and unique tradition that is Polynesian tattooing.  In addition to the photographs of the artwork, thirty of today's top tattooists are featured in this collection.  They share not only their personal histories, but the philosophical approaches that guide their work.  Featured artists, including Su'a Sulu'ape Aisea Toetuu of Honolulu, Carl Cocker of Aotearoa, Manu Farrarons of Tahiti, and Cory Ferguson of Ontario, Canada come from all over the world. 
In recent decades, the art of Polynesian tattooing has experienced an immense revitalization.  The Polynesian tattoo, in many cases, creates a statement of personal identity, which is reflected through the images of this collection.  The popularity of Polynesian tattoos has grown tremendously in recent years and has been made popular not only in the islands but all over the world.  This unique collection reflects the work of renowned artists and is a must-have for anyone who is interested in tattoo art. 
DON'T MISS THIS CHANCE TO SHOW OFF YOUR TATTOO!
In celebration of its release, Barnes & Noble Ala Moana will be hosting a TATTOO CONTEST, open to the general public, on Saturday, April 24. Sign-in begins at 7:30pm. Tricia Allen, along with select tattooists, will autograph books until 9 pm when the contest begins. Those interested may enter in any one of four categories: Traditional Polynesian tattoo, Tribal tattoo, non-Polynesian tattoo and Color tattoo. Barnes & Noble gift cards will be awarded as First, Second, and Third prize in each category. Judging will be by a panel of expert tattooists. Light refreshments will be served.