This Saturday is the Hawaii Book Publisher Association's Holiday Book Fair, and in anticipation of this sale we wanted to highlight some of the new books coming out from Mutual Publishing and BeachHouse Publishing.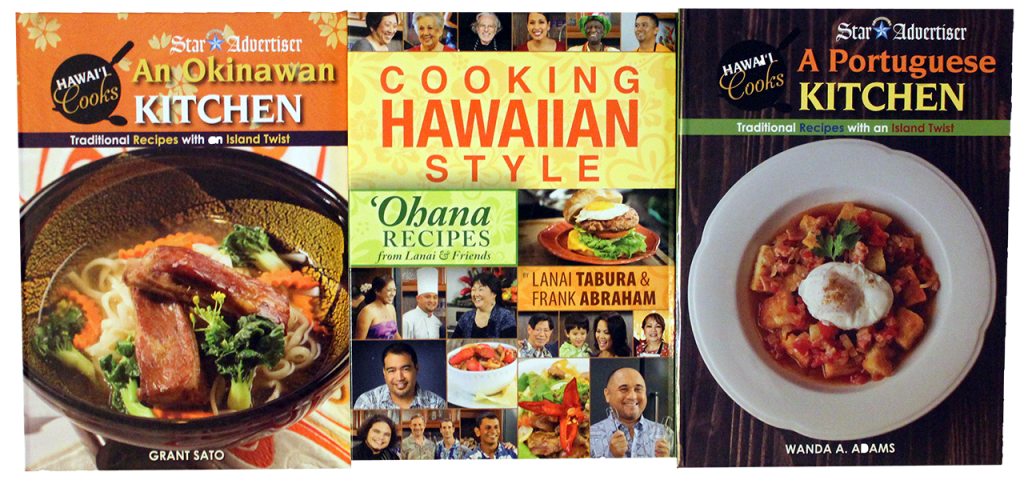 Known for their wide array of cooking books, this fall brings no less than three great new additions to your kitchen library.
Hawaii Cooks: An Okinawan Kitchen by Grant Sato is a collection of recipes inspired by Sato's grandmother who taught him how to cook. Whether you're looking to delve deep into your own roots and culture or are just looking for some new ideas to cook up, you'll find something to fulfill everyone's tastebuds.
Cooking Hawaiian Style by Lanai Tabura and Frank Abraham. The interesting thing about this book are the multitude of local personalities who contribute their own personal and family recipes to this collection. Go cook 'em!
Hawaii Cooks: A Portuguese Kitchen by Wanda A. Adams. Similar to An Okinawan Kitchen, this books delves deep into the local influence of the Portuguese on Hawaii and its culture. From Bacalhao Stew to Vinha D'ahlos, it all looks so mouth-watering delicious!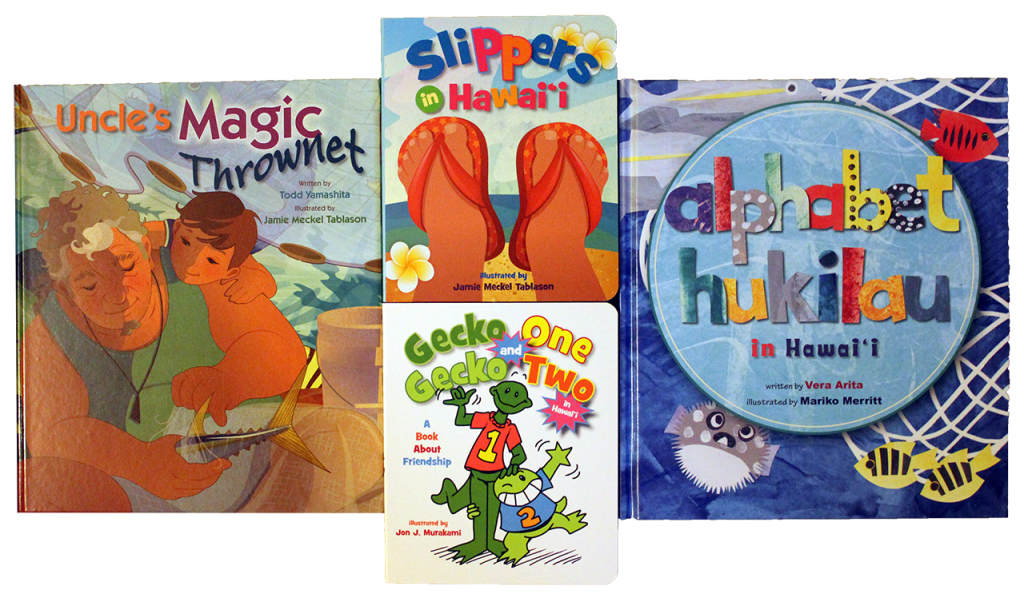 Uncle's Magic Thrownet by Todd Yamashita, illustrated by Jamie Meckel Tablason. Set in the warmth of the Hawaiian islands, generosity, conservation, intergenerational learning, and discovery are all shared in this new classic fishing tale. Jamie Meckel once again brings her beautiful brush to keiki literature.
Slippers in Hawaii illustrated by Jamie Meckel Tablason. Here's another Meckel book, showing her range and talent. She does a great job visualizing this adorable book; similar to her work in one of our all-time favorite board books.
Gecko One and Gecko Two in Hawaii, illustrated by Jon J. Murakami. Continuing the highly successful Gecko series of BeachHouse board books, this entry focuses on friendship. If you're a fan of Murakami's other illustrated gecko books, you're bound to enjoy this one.
Alphabet Hukilau in Hawaii by Vera Arita, illustrated by Mariko Merritt. This is a fun keiki book to help young ones both learn the alphabet and discover the fascinating creatures of the ocean. Merritt's layered, cut-out illustrative style lends itself to the fun and whimsy of the book.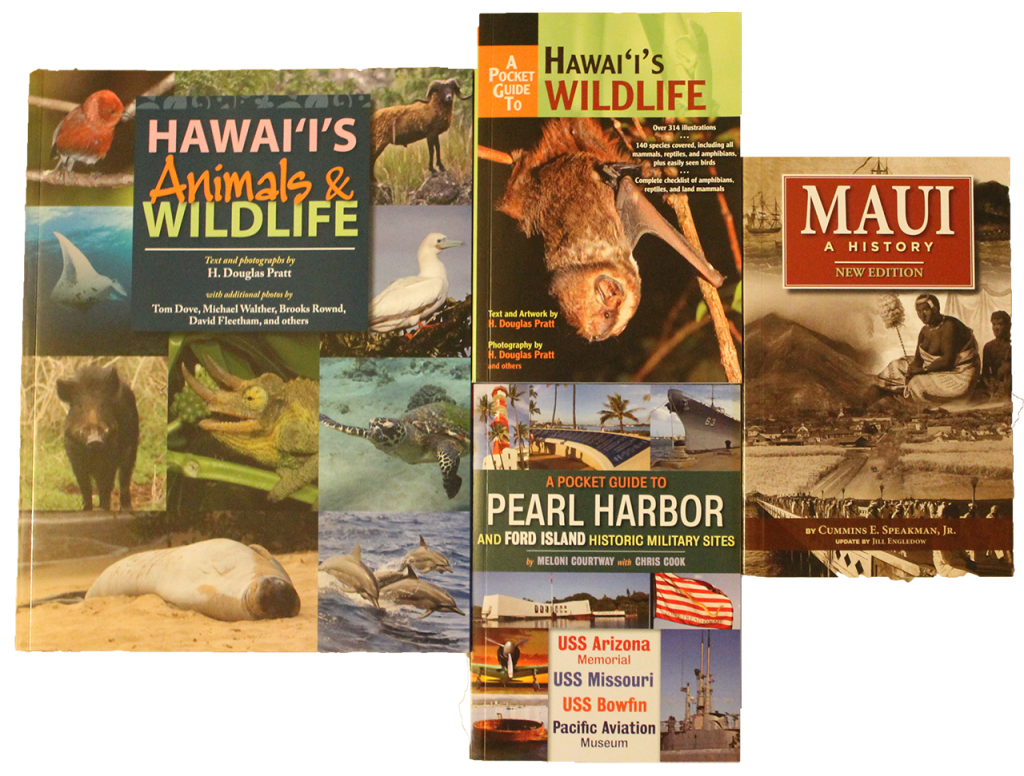 Hawaii's Animals Wildlife, text and photographs by H. Douglas Pratt. If you enjoy close-up photography of natural wildlife, this book is for you! Visually cataloging the range of Hawaii's fauna, this book would make a great coffee table companion.
A Pocket Guide to Hawaii's Wildlife by H. Douglas Pratt. Pratt once again delves into our local wildlife scene with this nifty pocket guide book. More verbose than the previous book, this both provides a useful reference with not only great photography, but illustrations of animal by Pratt himself.
A Pocket Guide to Pearl Harbor and Ford Island Historic Military Sites by Meloni Courtway with Chris Cook. The title says it all. This is a guidebook more than anything, and provides a ton of useful information on visiting these historic military sites from planning your day to breakdowns of all the areas of interest.
Maui, A History by Cummins E. Speakman, Jr. This new edition to the classic book takes the history of the island up to 2013. Revealing all the major events and people in the island's life, this book is a must-have for anyone who loves learning about the past and loves the valley isle.