I got a quick update from Judie Fernandez, the publicity director for author Bill Fernandez: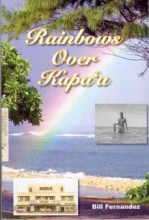 If you will be in attendance or access to the Council For Native Hawaiian Advancement convention at the Convention Center from October 11 – 14 you will have the opportunity to purchase Bill Fernandez's book Rainbows Over Kapa'a.  You can read a review of the book we did here.
For anyone unfamiliar with the CNHA, you can check out their website here: hawaiiancouncil.org.  It is an umbrella organization providing assistance to groups involved in Hawaiian culture, land issues, housing, education, social welfare, etc.  Bill Fernandez is a strong supporter and a member of its Advisory Council.
Thanks Judie for passing on this information!  If you're at the convention, check out the book.  It's an interesting slice of life of a sleepy town on the east side of Kauai.