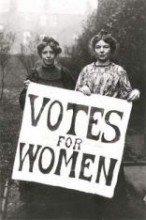 March is 'Women's History Month' and there's a bunch of educational and entertaining material out there to explore.
The Hawaii State Library often puts together very useful reading lists and I stumbled upon this collection/ bibliography of books on the extraordinary women of Hawai'i. It's basically a recommended list of materials by or about notable Hawai'i women in art, literature, education, science and politics. It's an interesting collection of titles that shows how dynamic women–Hawai'i women–can be. The list is pretty long too, with works on people like Princess Bernice Pauahi Bishop to more contemporaries like Winona Beamer and Lynne Waihee. You should definitely check it out.
UH also has a bibliography of resources and titles on women in Hawaii. You can find that one here. It's a bit shorter and not broken up by area of interest like the State Library compilation is, but still a useful collection of materials for those interested in Hawai'i's influential females. Regardless of gender, the accomplishments of many of these Hawai'i women should be an inspiration to everyone. I'm going to make it a personal goal to try and read more of these titles this year, maybe some of their charisma and motivation will rub off on me 😉
I thought I should also mention that currently, among other titles, I'm in the middle of reading Wai-Nani by Linda Ballou. It's a fictional, novel length tale based on the life of Queen Ka'ahumanu, Kamehameha's influential wife. To some, she is considered a notable Hawaiian woman. I have my own strong opinions about her, but am so far enjoying the descriptive narrative of the story. A review will be forthcoming.