posted by M.L. Sanico

Have you been enjoying our 8/8 Rec-Fest challenge so far? It's been quite a morning! Clifford the Big Red Dog is a superstar! There were kids crawling over each other to get to him! We're having a great, if not slightly rushed time here at the First Book-Oahu Book Fair Fundraiser. Here's a book I picked up off the floor here at B&N obviously after some excited keiki abandoned it to see Clifford.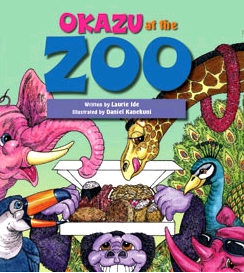 Okazu at the Zoo by Laurie Ide and illustrated by Daniel Kanekuni is a cute book about a boy and girl named Karley and Kamren who visit the zoo with okazu. I love the idea of this book, although the prospect of eating okazu at the zoo is not so appetizing. However, after reading this my tummy was growling! Karley and Kamren share everything from hot dogs and chorizo to musubi and chow fun with all the animals from alligators to zebras. It's a bit odd reading and learning about food and animals at the same time, but it makes this book quirky to read and certainly fun and silly for the kids.
My only gripe is that the book is written in rhyme and some of it is a bit forced, making reading it a little awkward. You know what they say, as a children's book author, you should only rhyme if you have to. Otherwise, this story will definitely make you hungry and surely make your keiki smile.