We are halfway through our book recommendation marathon and we are trying our best to keep up!  Things have settled down a little as Clifford the Big Red Dog and the keiki song and reading is finished.  For the past hour, local author James Rumford has been signing books and promoting Martha Alexander's wonderful book Max and the Dumb Flower Picture. At his autograph table, there is a small workstation where kids, young and old, are encouraged to draw their own flower on a blank sheet of paper in the spirit of Alexander's book which features a collection of flower drawings from various artists and people.  In fact, I added my own personal work of art to the collection–so if you see a purple, pink and green flower (how very Filipino of me) signed with an '@', you know you're in the presence of genius.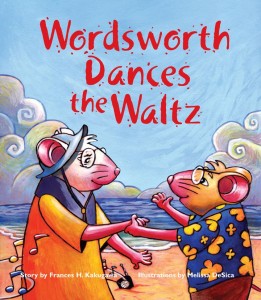 At any rate, for the fourth book I was very keen on reading and reviewing Wordsworth Dances the Waltz by Frances H. Kakugawa with illustrations by Melissa DeSica.  This is actually the second book to feature the literary mouse known as Wordsworth the Poet.  Unfortunately, I was unable to find a copy of the first book here at Barnes & Noble, but I was happy to see this one.  This book is published by our friends at Watermark Publishing, who not only release great books but do a wonderful job of promoting them online with a great website and active participation in Twitter and Facebook.
Wordsworth Dances the Waltz is a very touching book that asks questions like:  As our grandparents lose their memory, do they cease to be our grandparent?  Wordsworth is characterized as a young mouse with a gift for poetry and a writer's imagination.  He reminisces about the old days when his grandma was lively and constantly danced about the room, even when there was no music.  Now, grandma has come back a year later to live with Wordsworth's family, but the house is now quiet with whisperings going on, and grandma is relegated to spending time alone in her room.  Throughout the book we experience Wordsworth coming to terms with his grandma's memory loss through the expression of poetry.  Eventually, through his writing and observations, Wordsworth comes to a conclusion to this question and the book ends in a very heartwarming finale.  I was immensely impressed with this book.  It can be used as a wonderful learning and coping tool  for children–and even their parents–in dealing with how the passage of time slowly changes their older relatives, much like the clouds in the sky.  Highly recommended!