posted by M.L. Sanico

James Rumford was just here signing books and drawing flowers with the kids (I even drew a flower, it's a brown plumeria and not nearly as nice as the flowers he draws). He's promoting his book Max and the Dumb Flower Picture, but Alex and I took this opportunity to buy a few of his other books and have them signed. One of them is Dog-of-the-Sea-Waves a story written in both English and Hawaiian.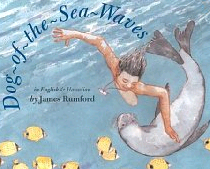 Rumford is a talented artist who has written and illustrated many cultural childrens books and meeting him was an honor. He speaks several languages, was in the Peace Corps, loves children and art…. in short, he's one of the most inspiring authors I've ever met. The book  Dog-of-the-Sea-Waves is a story about five brothers who journey across the sea and find the islands of Hawaii. One of the brothers doesn't like the new islands and wants to go home but soon befriends a monk seal that he names Dog-of-the-Sea-Waves. I won't give away the climactic ending but this is a nice story about making new friends and giving new places a chance. The back of the book has some great info about the islands, native animals and the Hawaiian language. The whole thing is illustrated with watercolor and crayon and you really see a lot of personality in the animals and people that he portrays. Rumford is a master at paying homage to the cultures and people that inspire his stories. Check out his bio here.