This is it!   As we are actually ahead of schedule I will be posting our final entry a little early, since we are slowly wrapping things up here.  Phew!  We accomplished our goal of doing 8 keiki book reviews, all of which are available from the Barnes & Noble Kahala children's section.  In the process we've spread the cause of First Book to the local community and hopefully with their purchases today helped raise lots of money for them to buy many, many books for Hawaii's kids.  We'd like to give a big mahalo to everybody with First Book and Barnes & Noble Kahala for letting us participate in all of the fun that we had today.  We got to meet two great authors in James Rumford and Celeste Gonsalves, see Clifford the Big Red Dog and Miss Hawaii Teen World and talked with a lot of people in the store promoting the First Book Cause.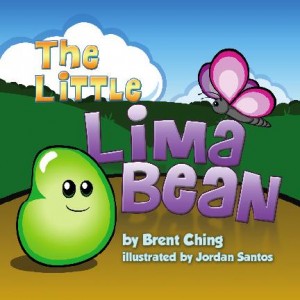 For our finale, I wanted to recommend The Little Lima Bean, published by Watermark Publishing.  The book was written by Brent Ching, a Hawaii dentist who now fulfills his dream to be an author.  The simple tale is targeted for children in the kindergarten/first grade range and provides a good life lesson for young kids in an extremely cute package.  The Little Lima Bean, as illustrated by Jordan Santos, has a very sleek and modern look that will appeal to kids used to the smooth design of Apple and other contemporary companies.  The colors have an almost neon sheen that makes every page of the lima bean's plight jump out at you.  Ultimately, the tale teaches kids that dreams may not be fulfilled right away, but even when things might look down, suddenly you can turn the corner and have your wishes come true.
In addition to being a cute kid's book, The Little Lima Bean also comes with actual lima bean seeds and instructions which let you relive the joy of discovery and growth that the lima bean experiences in the book.  It's a great way to wrap up the lessons taught in Brent Ching's story.  And after reading it, if you enjoyed the book and have an account on Facebook, why not become a fan of The Little Lima Bean?  Come on!