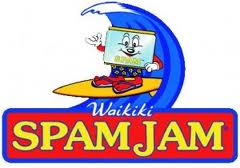 This Saturday, April 28th, is the 10th Annual Waikiki Spam Jam! From 4pm to 10pm part of Kalakaua Avenue will be blocked off to accommodate the festivities. Live music, SPAM logo goods, local vendors plus unique SPAM recipes and concoctions from some of Hawai'i's top restaurants.
Most of the SPAM related books that come out of Hawai'i are recipe related. This is not surprising since we have the second highest (after Guam) number of consumers per capita, in the world. Here's a short book list to celebrate this beloved meat-in-a-can, without which we would have no SPAM musubi.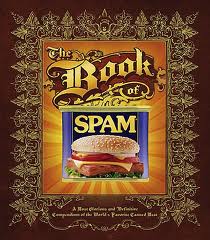 The Book of SPAM–Although not technically a local book, authors Dan Armstrong and Dustin Black are SPAM fanatics, and as connoisseurs of this canned meat they understand its historic and cultural significance. Well, there's no denying that SPAM has had an impact on our local culture in a big way.  This book is a pretty definitive guide. From where SPAM originated and how it got its name, to its role in the war and its iconic marketing campaigns. With SPAM history, miscellaneous facts and fun tidbits this book is a surprisingly interesting read and, like the meat itself, doesn't take itself too seriously. Converting the masses in a playful, entertaining and informative way.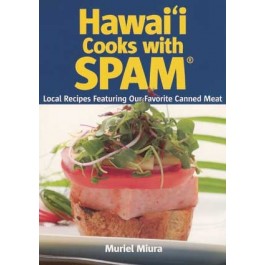 One of the best things about going to Spam Jam is seeing and tasting the different ways restaurants use SPAM. It never ceases to amaze me how fancy they can make SPAM look and taste. Of all the SPAM cookbooks, Hawai'i Cooks with SPAM  by Muriel Miura would be the best suited to help replicate this at home. Glossy color pictures and easy to follow instructions guide you through preparing delicious SPAM-fections for pupu, dinner and parties.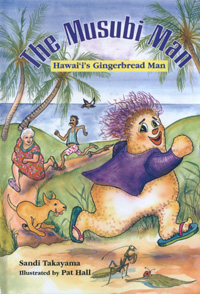 Keiki book The Musubi Man: Hawai'i's Gingerbread Man doesn't specify whether or not he's a SPAM musubi, but it's safe to say here in Hawai'i at least, that if you say "musubi" it's likely you mean a SPAM musubi. Author Sandi Takayama revamps the classic fable of the Gingerbread Man into a fun new character for local kids.
Alex did a review of this book, and the others in the musubi series, during one of our Rec-Fest Fundraisers. You can read his thoughts here.
Okay, so it's a short book list, but more importantly, there's a lot of field work (and less reading) to be done on the topic. Musubi tour of the island, anyone? I'm so there! Check out these books, and go to Spam Jam!