I wanted to honor Teen Read Week by reading and reviewing some exceptional Hawaii fiction.  Given my limited amount of time in planning this, I quickly perused through Mutual Publishing's fiction section and found two books that caught my eye.  While they didn't necessarily mesh with the National Teen Read Week theme of "Books With Beat," I thought they would be interesting Hawaii reads for not only teens, but any avid readers around the world.  Unfortunately due to time constraints I wasn't able to read these books in time but still wanted to share my personal picks with you.  If you've read these books, I'd love to know what you thought of them!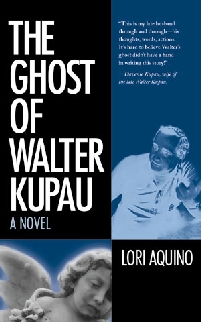 The Ghost of Walter Kupau by Lori Aquino
There really aren't that many quality young adult books by local publishers, and truth be told I'm not sure this book that I selected for Teen Read Week would be classified as such.  I was drawn in by its short page count (it comes in at 178 pages) and semi-romantic plot, but a quick flip through the book finds that the dialogue contains a fair sprinkling of profanity.  As it is, it may not be appropriate for certain children (and parents), however, older high school kids might appreciate the sharp dialogue and fascinating plot.  It's also timely for the Halloween season as one of the protagonists in the story is an apparition.  Read the official description from Mutual Publishing:
Once a kingpin and reputably Don Corleone of the islands' labor scene, Walter Kupau remains a legend to his former employee, Renae Roces. Renae, nicknamed "Roaches," has a problem: she cannot get over an old flame. She contacts the ghost of her old boss, Walter Kupau, to ask for a favor – she wants him to bump off her cheating ex-lover. In her quest for peace of mind, Roaches gets entangled with powers beyond her comprehension, but learns that friendship and time heal all, and as Walter says, "nobody gets off."
Here are some quotes from book reviews of The Ghost of Walter Kupau with links to the full article:
"The world's least sentimental romance novel…Aquino can flat out write."  -John Heckathorn, Honolulu Magazine

"the book has a preposterous and captivating plot involving love gone bad — very bad."  -Wanda Adams, Honolulu Advertiser

"This year, "Kupau" is far and away the liveliest and most interesting work of local fiction."  -Burl Burlingame, Honolulu Star-Bulletin
Only If You Can Find Me by Patricia Laurel
Although I already included this in my Filipino-American History Month reading list; based on my research of this book I thought it would be an insightful read, melding Filipino and Hawaiian culture in a young adult literary package.  This is perfect for not only Filipino-Americans to read but also for teenagers and young adults.  Here's the official description from Mutual Publishing:
Nine-year-old Samantha Plum, born and raised in San Francisco, crosses the Pacific to the Philippines, land of her ancestors. On the way, she meets Solo, the magical Hawaiian, who becomes one of her mentors. In the Philippines, she finds a very different world and meets the spirit of her ancestor Lolo Ciano, brother of the national hero Jose Rizal. She and her family are threatened by the spell of a vengeful duwende and the schemes of an evil cousin. Lolo Ciano, Solo and his aumakua the tiger shark help Sammy learn who she is, so she can save herself and her family. Only if You Can Find Me is based on the life of the author's niece who was diagnosed with autism after returning from a trip to the Philippines. A wise Chinese man said the little girl's mind was taken by a creature of the earth who lived in the jungle.
Here are some quotes from book reviews of Only If You Can Find Me with links to the full article:
"…the first Filipino-American young-adult novel"  -Wanda Adams, Honolulu Advertiser

"…a jam-packed whirlwind through Filipino culture and history from the outsider-insider perspective of a Filipino American girl"  -Michelle Devera Louie, San Francisco Chronicle

"Young adult fiction is sorely underrepresented in the local publishing scene and Laurel enters the genre bravely and successfully." -I.G., Honolulu Weekly
So, if you like what you've read and are looking for something to engage you or your teenager, see if you can find a copy of these books in a local book store or at your local library.  And look out for full reviews of these two books on Hawaii Book Blog sometime in the future!