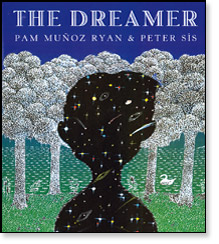 What is the color of a minute?

A month?

A year?
The Dreamer (Scholastic, 2010)  by Pam Munoz Ryan is a middle-grade historic fiction about the young life of Nobel Prize winning poet Pablo Neruda. Based on the events of his childhood when he was known by his given name, Neftali, this book is an expressive and insightful look at how the world is perceived through the eyes of a young dreamer. But every story must have a conflict and for Neftali it's the expectations of his father and the reality of his circumstances that threaten to destroy his hopes for the future.  Children will easily relate to the events in Neftali's life–summer vacations with the family, taking care of younger siblings, having your first crush. They'll certainly connect with the many emotions that come across in the story too–pride, love, disappointment, anxiety and joy. This is ultimately a story about having the courage to follow your heart and have faith in your convictions instead of doing what is safe or what others expect you to do.
Whimsical illustrations by Peter Sis compliment Ryan's delightful and witty poems, stanzas and ponderings (see example below). These illustrations break up the book's narrative and allows the reader a chance to breathe and explore… to wander in your imagination the way Neftali wanders in his own.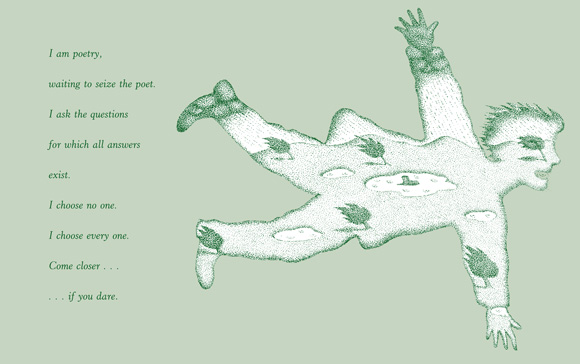 Motivated by his poetry, memoirs and inquisitive nature, Ryan has weaved a magical tale about the power of words and wonder. This is an inspirational book. It's the kind of book I wish were around when I was a young reader.
See Pam Munoz Ryan this Friday-Saturday, June 22-23 at the Children's Literature Hawaii Biennial Conference along with local illustrator James Rumford [see a review of his book here]. The event is FREE and it's a great opportunity to listen and learn about writing, reading and illustrating for children. Talented writers like Sue Cowing author of You Will Call Me Drog, and many more will be hosting free workshop sessions!