This review is part of our 'Book Fair and Blog-a-Thon Benefit' for First Book-Oahu. Six keiki books in six hours!
Well it's almost six hours later and here I am with sixth and final keiki book review of the day! This is the third year we've teamed up with First Book-Oahu to do a "rec-fest" or as we call it now a "blog-a-thon" to review one keiki book an hour and we always forget just how much work it can be. Especially when we're not only writing. We're assisting First Book-Oahu by talking with customers, we're coordinating and covering two in-store book events, and of course we're mingling with each other. Through it all, it's always worth it to help this worthy cause and it's a blast to get to review so many keiki books in a day and meet all the great people involved. A big mahalo to Barnes & Noble Kahala for hosting this BookFair and allowing Hawaii Reads to participate!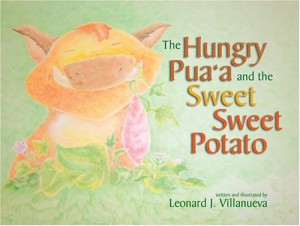 The final book I selected had an extremely cute cover which immediately drew me in. On this cover, an adorable looking puaʻa is dangling a sweet potato from its mouth. The book is called The Hungry Puaʻa and the Sweet Sweet Potato by Leonard J. Villanueva (BeachHouse Publishing, 2005).
In the book, a cute little puaʻa hungry for some food gets "Kah-Tonk'd" on the head with a sweet-looking sweet potato. Instead of eating this delicious treat, he decides to show it off to all his friends in a rather pushy, obnoxious manner. In the end, once he's rubbed his prize into the faces of other puaʻa, coqui frogs, and a family of nēnē geese, the hungry puaʻa finds himself lonely and ultimately decides that sharing with others is more fun than having it all to himself.
As I stated previously, what drew me to this book was the charming illustrative style of Leonard Villanueva. It's a very cartoony, caricatured style that young kids and girls of all ages will find endearing. The various expressions of our greedy little puaʻa often make each page—his range of facial emotions spans from gruff and tough to adorably pitiful. Also, the book has a great message of sharing with others, something that resonates strongly with our culture of ʻohana here in Hawaiʻi. Better to have less with more people, than to have more with nobody to share with.
Mahalo for following and supporting us during our Blog-A-Thon. Don't forget that the First Book-Oahu voucher/code is good in both Oʻahu Barnes & Nobles through the rest of the weekend and can be used online until October 5.