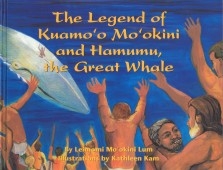 Well, here is my last review for the blog-a-thon. It's a keiki book from Kamahoi Press, an imprint of Bishop Museum Press. Proceeds from the sale of these books support Bishop Museum, so it's a great way to support an important Hawaii institution.
The Legend of Kuamo'o Mo'okini and Humumu, the Great Whale by Leimomi Mo'okini Lum is a story about a priest named Kuamo'o Mo'okini. He had a very special gift—he could communicate and understand animals. He listened to their advice and warnings and helped care for them so that he and his family could live fruitfully and peacefully. One day Kuamo'o went in search of the Great Whale named Hamumu. The whale would eventually lead him to Hawai'i where he would help the native people build a temple, a heiau.
This story is quite short but it's a nice introduction into how Mo'okini Heiau began and why Kuamo'o's descendants are still caretakers for it.