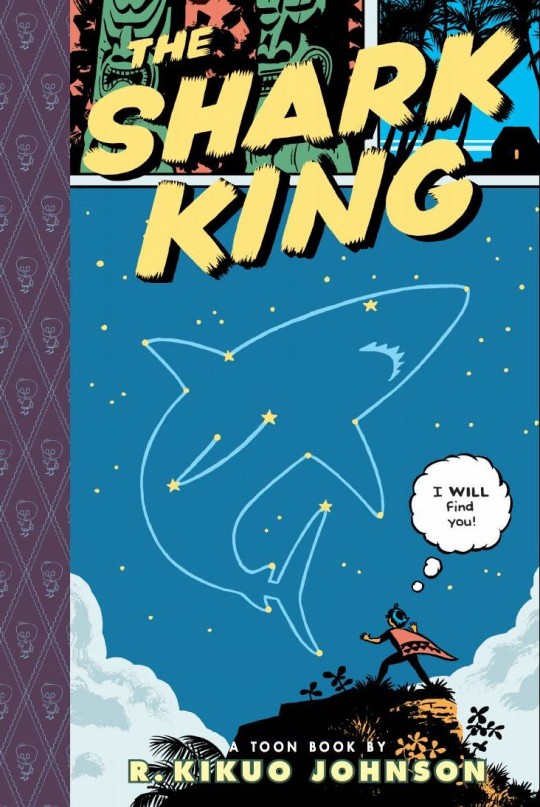 R. Kikuo Johnson first burst onto the graphic novel scene with the powerfully illustrated and narrated Night Fisher, about a high school kid on Maui getting mixed up in drugs and criminal activity [read: our review of Night Fisher]. Seven years later, Johnson returns to drawing stories set in Hawaiʻi with his latest comic book: The Shark King (Toon Books, 2012).
This "Toon Book" retells the ancient Hawaiian tale of Nanaue, the son of  the Shark King, Kamohoalii and a Hawaiian woman named Kalei. Unlike some versions of this tale, this book's audience is intended for children, and thus avoids some of the more gorier aspects of Nanaue's story.
In this telling, Kalei meets a mysterious man from the ocean who takes her for a wife and gets her pregnant. Before their son is born, the man disappears into the ocean, revealing himself to her as the Shark King. Their son Nanaue is born, but with a strange mark on his back resembling a shark mouth and an insatiable appetite. With a mischievous flair, Nanaue soon begins stealing food right from under the nets and hooks of local fisherman before eventually being spotted, taking the book into its suspenseful climax.
Unlike the dark, gritty monochromatic look of Night Fisher, The Shark King boasts a much more whimsical, colorful palette. Though the quick and confident brush strokes remain the same in Johnson's previous work, The Shark King with its bright, muted colors and simple facial features bears a retro-ish charm that fits well into its intended audience. There's a fantastic two-page panel where Nanaue, having leapt off a cliff, dives into the sea, curving ever so sharply back upward, looking reminiscent of Astro Boy streaking across the skies, but within the colorful, living depths of the ocean.
With a Hawaiian story told in illustrated form by such a talent as R. Kikuo Johnson, I have nothing but strong recommendations for The Shark King. Though it is a bit brief for adults, this hardcover comic would be a great addition to any child, and a fun and engaging way to introduce them to Hawaiian legends and folk tales. I love any good representation of Hawaiʻi in graphic novels/comics books and can only hope that through Johnson's efforts, more young artists will emerge to further represent Hawaiʻi's unique culture and mythos.
This is a Level 3 Toon Book, which means it's a chapter-book comic intended for children in Grades 2-3.
The Shark King
Toon Books, 2012
Hardcover, 40 pages
ISBN: 978-1935179160