[gn_quote]
I think it's a whole culture…and it doesn't seem particularly funny to me.
-singer/songwriter
Stephin Merritt
[/gn_quote]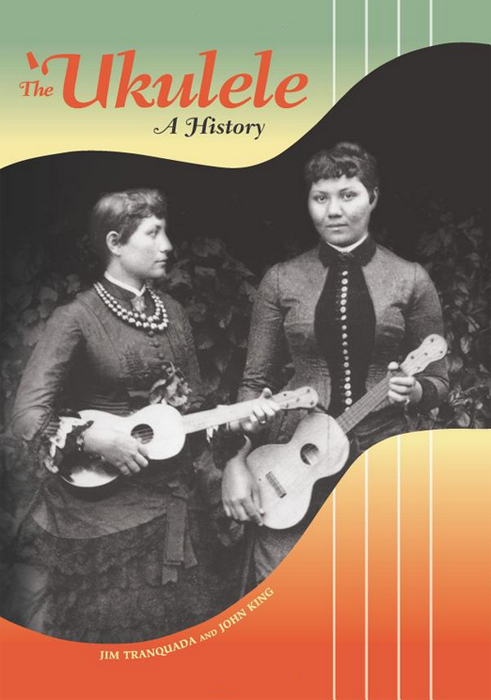 When you think of the ʻukulele, what comes to mind?
Depending on where you're from and your exposure to Hawaiian culture, the ʻukulele may manifest in several forms:  "a promise of an island paradise, a tourist souvenir, an instrument central to a rich and celebrated musical culture, a tool of political protest, a highly sought-after collectible, a remarkable synthesis of Western and Pacific cultures, the butt of jokes."  How ever you choose to view the uke, it's undeniable to dismiss the heavy imprint this Hawaiian icon has had on the music and pop culture landscape around the world.
Jim Tranquada and John King seek to tell the story of this versatile instrument in their new book, The ʻUkulele: A History (University of Hawaii Press).  The authors have crafted together an academic narrative which draws upon years of research and a vast combing of archives, books, playbills, film, and other pop culture mediums.  There are nearly a hundred pages dedicated to appendices and notes, alone, not including the impressive bibliography.  Corralling these massive amounts of primary and secondary sources into a cohesive narrative is difficult work, and while the pacing is not always a fluid read, Tranquada and King did a masterful job weaving together a countless array of often remote references into a story that takes you back into that era.
It was fascinating to read contemporary news accounts detailing the growing love affair between the American mainland and the Hawaiian Islands, bridged together by the affectation of the ʻukulele.  Amazing that an instrument only introduced to Hawaiʻi in 1879 would soon become an international representative of Hawaiʻi and its unique culture.
I also greatly enjoyed absorbing accounts about how widespread the popularity of Hawaiian music–both genuine and manufactured–became in the early 20th century.  From fairs and expositions on the West Coast, Hawaiian music spread infectiously across the country, all the way to the arbiter of culture, New York City, where Tin Pan Alley and vaudeville wholly embraced the phenomenon, and often mimicked it to hilarious effect (see: Yuka Hula Hickey Dula).  One thing I learned from the many newspaper accounts referenced in the book are that first-time listeners to the ʻukulele almost always uniformly described both the instrument and the Hawaiian singers as "sweet, melodic, plaintive."
Overall, The ʻUkulele: A History is a finely crafted, academically researched history of the ʻukulele.  Music historians, ukulele lovers and collectors, and non-fiction readers who appreciate well annotated text will find great value in reading this book.  Tranquada and King wholly succeeded in providing further proof that the ʻukulele's place in music and pop culture history will stand the test of time.
The ʻUkulele: A History
by Jim Tranquada and John King
University of Hawaiʻi Press, 2012
296 pages, softcover
$20.99
*Disclaimer: We received a complimentary copy of this book from the publisher in exchange for our honest review.
BONUS!
Check out this sampling of Youtube videos, inspired by my reading of The ʻUkulele: A History.
What's your favorite ʻukulele video?