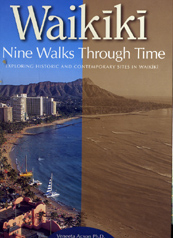 Thank you to everyone who entered our Holiday Book Giveaway on Twitter.  We greatly appreciate all your retweets and consider you all winners in our hearts!  But enough cheese and on to the drawing!  The winner of this giveaway wins a free copy of Waikiki:  Nine Walks Through Time by Veneeta Acson Phd.D (HBB review here).  All that was required to enter was to follow us on Twitter (@hawaiibookblog) and retweet (RT) one of our messages regarding the giveaway.  We had numerous entries and multiple retweets from a number of individuals.  I want to thank everyone who did multiple retweets and must add that even though it was not stated in the giveaway details, I gave everyone an extra entry for each RT they provided.  So, after pulling names from a bowl, I randomly selected the following winner:
Tara (@tarasdogservice) from Hawaii Kai
Congratulations Tara!  We will be sending her copy of Waikiki: Nine Walks Through Time in the mail as soon as possible so that she can go and explore the historic and contemporary sites in Waikiki.
One of the great things about the Internet is learning about and discovering new and interesting facets about your locale and the people that inhabit it .  When I checked to find contact information for Tara I noticed that she ran her own dog service business here on Oahu and thought that was really cool.  So, if you're a dog owner here on the island, and like many of us just don't have a lot of time in the day to accomplish everything, you and your dog(s) might be able to benefit from Tara and her services.  Check out her webpage at http://www.tarasdogservices.com.
Once again, much mahalos to Tara and everyone else who entered our book giveaway.  Don't forget to keep checking in with Hawaii Book Blog through RSS, Facebook or Twitter to find out when our next book giveaway might be.