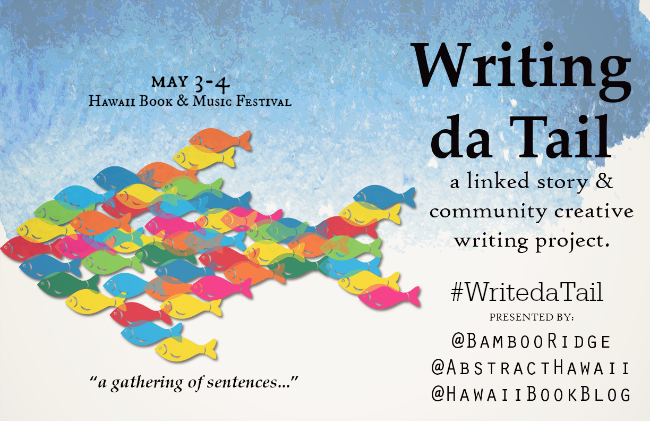 Mahalo to everyone who participated in our community linked story. 'Writing Da Tail' is a collaborative literary experiment intended to take the solitary act of writing and give it a visual, tactile, community presence… like the street art of creative writing. Each person who participated added to the "tail" of the story but only had the previous sentence as context. The results are a little disjointed but surprisingly whole and the stories easily morph from hilarious to profound and everywhere in between. We ended up with two stories, one for each day of the festival. It was interesting to see the different sentences that people came up with and how happy they were to contribute. Also, people seem to really love exclamation points!!!
Thank you to our partners Bamboo Ridge Press and Abstract Magazine for their support. Without further ado, here they are all put together.
Story #1 Saturday, May 3rd
It was hot and humid but we were eager to face the day ahead.

We set off on trail with the weight of our full packs heavy on our backs… after a mile something caught my eye off the edge of the trail—a tiny finger lay half buried in the dirt.

There's a lot you can tell about a person from just one finger and how it lays severed in the dirt.

I keep walking, looking at the finger from my peripheral vision–it's clean, slightly bent, and pointing further down the trail.

Is it human or ghost?!

I asked of my host.

He replied, "my wife's corpse is in the freezer."

Don't tell Uncle Bully dat, he just stocked dat freezer wit da bambucha ahi from da annual Boy's Day Contest!

Ok, and how come the guy playing banjo is so…so…so tame, quiet?

He is channeling his energy into his banjo so he needs peace and quiet.

He can't think of what song to play.

So he danced instead.

With a chicken!

But the chicken wasn't happy, it wanted to fly!

It soon found her wings were clipped!

Ha! Good thing my wings will grow back instantly!

I'm going to crawl, run, scamper and when I'm able I'll fly into the deep shadows of nthe mango tree.

In the shadow of the mango tree lay a hidden treasure.

As the spirit breathes fresh through the palms Akua's voice is seen as well as heard.

Music takes form from the sounds and makes them dance with Akua.

Listen to the sound within and without, and you find music everywhere.

As you reach inside of you, you find a music box with a secret compartment.

Lift your arms, fingers fluttering, pulling down across your torso as you pull the mists from the mountains.

Focus on the energy that you gather from the Earth, bring it to your side with palms touching and facing outwards as you slowly chant, "Ka—meha—me——–ha!!"

This must be about hands so why did I put mine into a drawer to pull out a knife but the knife bit my finger and there was my blood on the kitchen floor.

I cut my finger because I was making a delicious midnight snack.

Midnight was the time my mind was clearest. All interruptions were gone. Quiet. Peace. Thoughts were sharp and in focus. It was then, at midnight that I realized finally…

That the faint ticking noise I had been hearing was coming from inside my head.

And then I realized I might be totally insane!

And that everything was just a dream.

So I woke up and went to the kitchen.

But I decided to "morderla" (bite her) instead.

Before I could, she burst into tears and announced her dog died.

I didn't even know she had a dog!

I love my dogs! Hina and Manolo are the best dogs in the world.

The trouble started, though, when Manolo smelled the chocolate.

He snapped his swimming cap on, did a little wiggle and dove head-first into the tub of chocolate!

All his life he liked to be different… like coloring outside the lines… he made his mark on life his way!!

He made his mark by picking his nose.

He made his mark by stretching his toes.

His feet felt warm against the sand.

He is hot and sweaty.

He wishes he has ice-cold water.

He's dreaming about the cool mountain water at Tutu's house.

I played with my friend Eliza for a long time.

The corn of the Aztecs fed us well and took my mind to that unfamiliar place.

Remember when we used to have those wonderful corn tortilla tacos at Cucina in Kaka'ako? I'll miss that place.

I miss lots of things. I must be getting old; nothing seems as good as it used to be!

You used to be able to get a Hershey bar for a nickel—what happened?

But people wanted more money, and raised the prices.

So the cows hid their calves, and hens hid their chicks, and the supermarkets still charged too much.

But across the street the old Pake man was walking by, not thinking much about anything but what his wife was going to cook for dinner.
Story #2 Sunday, May 4th
I was writing da tail at the Hawaii Book and Music Festival.

When someone told me books are a thing of the past.

I told 'em, "No way!"

Eat 'em up and it becomes real!

Then you put it in the puka!

"But I don't want it in the puka!" she said.

"I'll take a nice pat on the head if you've got one of those for me"

But you can touch my heart, too.

Anywhere, anytime baby, I'm here for you.

I love it here. It's so warm and beautiful.

Growing up here instills a sense of place…´aina hanau—land of my birth.

And then she jumped into the blue, blue ocean.

I felt the warm water, my makas looked into the sky. Thank you for my love of my islands.

For a moment or two, I had to pause and reflect on this place and this time.

When all of a sudden my thoughts were interrupted when something grabbed my ankle.

"You know I hate it when you beg," I said to her, but she held on tight. "Just once," I said, "playhard to get. Please."

After I said that, she laughed playfully and said, "funny that's what I told you…all those years ago…" That's when it hit me. It was "HER."

Older sister that did the wonderful project and not her.

Laughing playfully again, she got up from where she sat.

She got up, looked down from heaven and smiled down at us!

She saw water flowing from the mountains to the ocean.

The smell of sweet salt fills her lungs.

And she comes alive with the energy of the ocean behind her.

But then…

The bird flew up suddenly from near the tire of the car, wheeled around and disappeared into the dark thickness of the tree.

I stood there amazed as the rain began to fall.

Then it happened. The thunderstorm.

I felt the mist, cool upon my face.

I went home and played video games.

The last drop of rain fell and I went to bed to sleep.

That's when the Sandman came, sprinkled his dream dust upon my head, and the horror began.

Millions of golden starfish emerged from the crashing waves…

Ua ku kila kila nui nalo

Look up see the three stars of the Big Dipper's handle, I thought it was Orions Belt but who cares , they match the ocean starfish.

I love children. My favorite word is education. I want to be a millionaire.