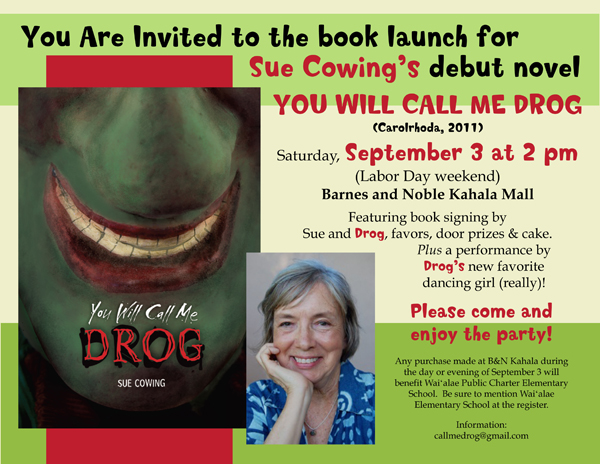 [gn_quote]
A debut middle-grade novel and a cleverly framed story of self-determination and family relationships. Fresh, funny, unexpected and, at times, just a little dark. [/gn_quote]
Recently, I came across an uncanny book trailer while scouring the Internet for Hawaii book news.  The trailer was for a new novel titled You Will Call Me Drog and featured tempestuous gypsy-like music, a life-changing introduction and a creepy, green puppet.  The combination was both menacing, yet eerily intriguing and I posted about it twice:  Once on our Facebook wall, and once in this past Monday's Huki-Links.
Drog, which is targeted for readers aged 8-12,  is the first novel by Honolulu author Sue Cowing.  She has previously authored two books including the keiki picture book My Dog Has Flies: Poetry for Hawaii's Kids, illustrated by Jon J. Murakami and an award of excellence winner from the 2006 Ka Palapala Poʻokela Awards.
What also drew me into wanting to read the book is the creepy-looking cover.  The face in the background is playfully grotesque, looking like the Wicked Witch of the West meets Jay Leno.  While both puppets are spooky, there is something very ominous (and thus, fascinating) about the cover.
The book launch event for You Will Call Me Drog occurs on Saturday, September 3rd starting from 2:00pm at Barnes and Noble Kahala Mall.  The event will feature a book signing by both author Sue Cowing and the puppet Drog, and will include party favors, door prizes and cake!  There will even be a performance put on my Drog's favorite new dancing girl.
This sounds like it will be a fun event for kids and parents alike.  Here's your chance to meet an award-winning local author and the puppet Drog himself!  For more information about the book, visit Sue Cowing's official website.  Here's what some are saying about it:
[gn_quote]
". . .a multicultural gem. . . .Drog is the anti-Pinocchio of middle school. He tells the truth! But reader beware: DROG is hard to put down.. . .a laugh out loud story about a sassy puppet and the boy who gloved him. (Sorry, Drog made me do it!!)"     –John H. Ritter, author of The Boy Who Saved Baseball
"Loved it." –Graham Salisbury, author of Under the Blood-Red Sun.
"This is a riveting read, one that will stay with you long after the covers are closed."  -Kathi Appelt, author of The Underneath, National Book Award finalist
 " . . .a solid debut."  Kirkus Book Reviews
[/gn_quote]